This is partly down to a generation of early-20th-century artists and architects, like Antoni Gaudí, whose unforgettable buildings are like nothing you'll see anywhere else.
There's something to delight everyone in Barcelona. If you're a food lover then the city has a total of 20 Michelin stars, and if you want culture you've got an inexhaustible choice of beautiful buildings and events. Add to this clean urban beaches, world-class nightlife and so much great shopping you won't know where to begin.
Let's explore the best things to do in Barcelona:
1. Las Ramblas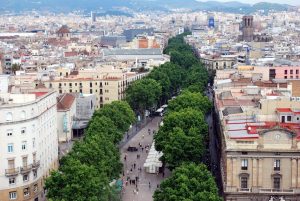 Source: flickr
Never mind that a lot of locals shun this sequence of promenades that runs from Plaça de Catalunya down to the Columbus Monument at the waterfront.
If you're a tourist it's one of those things that you have to do.
In summer you'll be under the shade of the tall plane trees and shuffling through the crowds that pass living statues, street performers, bird-sellers and flower stands.
Occasionally you'll catch the whiff of waffles (gofres) being baked.
Once you get to the water you can keep going along the boards to visit the Maremagnum mall or Barcelona's Aquarium.
2. Sagrada Família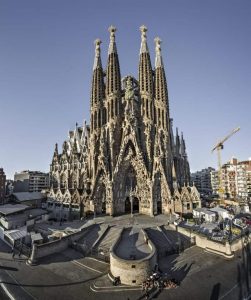 This is where to begin your adventure through Barcelona and the dreamlike works of Antoni Gaudí.
His minor basilica is a project of incredible scale and ambition that is still only around three quarters complete more than a 140 years after Gaudí first became involved.
When its spires are finished it will be the tallest church building in the world, and hardly resembles any religious structure you'll have seen in your life.
The Sagrada Família combines several architectural styles including Catalan Modernism, Art Nouveau and Spanish Late-Gothic, but Gaudí's masterpiece defies these kinds of definitions when you look up open-mouthed at the ceiling of the nave.
3. Casa Batlló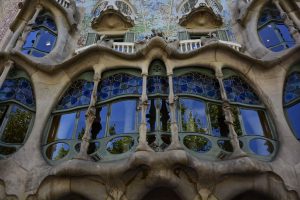 Another of Antoni Gaudí's most postcard-friendly creations, this apartment block wasn't created from scratch but was a remodel undertaken at the turn of the 20th century.
You won't need to have visited Barcelona to recognise the building's roof, the tiles of which are the scales of a great dragon.
Like all of his work the inside and outside of Casa Batlló has that sinuous quality, with few straight lines, and dazzling attention to detail.
Take the mushroom-shaped fireplace on the noble floor, which like a cosy grotto was designed for couples to warm up in winter.
4. Casa Milà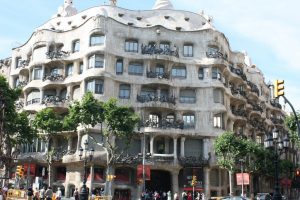 Also known as La Pedrera, as the front of the building looks a bit like the face of a quarry, Casa Milà was completed in 1912 and is another emblematic Gaudí building.
It's one of several of Catalan modernist works to be UNESCO listed and was the fourth and final Gaudí building on Passeig de Gràcia.
Architects will appreciate the contemporary innovations here, including the self-supporting stone facade and underground car park.
It was designed for the industrialist Pere Milà i Camps to be his family home, with apartments for rent on the upper floors.
The coherence between the design of the building and Casa Milà's furnishings is a real joy to see, and it's all from a time when Gaudí was at the top of his game
5. City Beaches
Barcelona's beachfront boardwalk stretches for miles. It will take a good hour to get from Barceloneta to Diagonal Mar on foot, but it's a walk that really helps you understand the city.
The westernmost beaches like Sant Sebastià are busier and more touristy, but are backed by Barceloneta's tight lattice of trendy shops and bars with terraces and outdoor seating.
As you move along the waterfront after the Olympic Port you'll find a bit more room and more Barcelona locals.
Finally, just up from Platja de Llevant is the massive and new Diagonal Mar mall, revitalising a former industrial part of the city.