Wearing a watch makes your personality a hundred times more attractive than you are. Many pieces of research show that people who wear wristwatches are more likely to be punctual. Wristwatches can be a perfect gift for either a birthday or an anniversary. However, choosing the right type of wristwatch according to your personality can be a difficult task. Here we have bought a complete guide to choosing the perfect wristwatch on the proper budget.
Choosing the Right Wristwatch
Make A Budget
Every person has some specifications about the item they want to buy. However, you must know what your wallet allows. The first thing that you must consider is your budget. Once you know your budget, you can choose the material and the type of watch you want. Moreover, when you have a fixed budget, you will know what brand you choose and what material watch you will have. Generally, you can get a good, long-lasting, and durable price range of $100 to $500. You can also buy a good watch for your friend or fiancee. It is not mandatory to spend thousands of dollars on the watch; you can buy a good one in an average price range.
Type of Watch 
Would you have a specific type of watch that you prefer to buy? Well, you must do your research first. You must first determine what watch you will buy before considering designs and colors. Look up the watch you wanted to buy and if it has good reviews and does it suit your personality. There are too many categories to choose from. Therefore, making a short list of what you want your watch to be like is critical. You can choose an analog or a digital watch, whatever suits you. Analog watches are more likely worn at formal events, whereas digitals are worn at casual events.
Finding the Right Size
You need to find the right size of the watch for yourself. You may find the one with an adjustable band rather than the fixed one. Moreover, if you are getting a watch with an adjustable band, you can grab anyone. However, if you are getting a non-adjustable watch, you must stay vigilant about the size. It must fit right on your wrist rather than hanging loose or too tight. Furthermore, if you are buying it as a gift for your friend, you must have the right size for their wrist. You can take their size using a measuring tape.
Check the watch size chart by measuring your wrist circumference.
Style
The style of the watch is always different for everyone. If you are thinking of giving it as a wedding gift, then prefer it to be glamorous or if you are buying it for a kid, buy one with cartoons or colourful straps. Furthermore, if you are looking for a watch for a person who is not into watches, then make sure that you buy an easy-to-use and operate watch for them.
Features
Watches with colourful dials or unusual case shapes are ideal if you're looking for a fashion hound. You can also choose a featured watch. Those with a keen interest in sports may find a helpful chronograph, while those seeking to make the most of their travels or business may find dual time zones useful.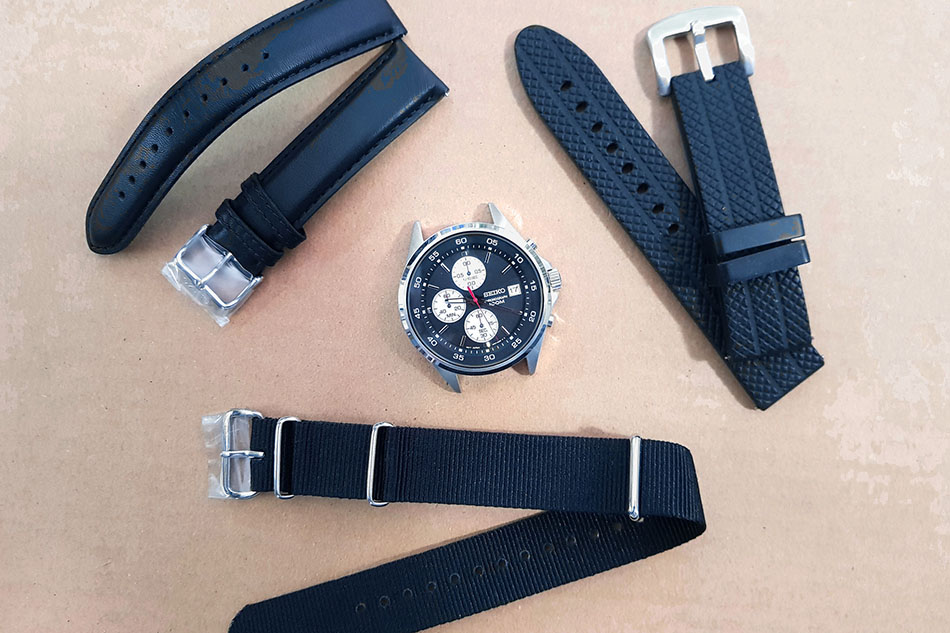 Brand
Branding is a bit more complicated than you might think. It does not matter which brand of watch you buy. Knowing which brands are the best – across all price points – can be helpful, though. Some people are brand conscious, while others look for lesser-known brands that promise good value. The better-known brands may have a stronger appeal if you buy at an affordable price. Personal taste is an important consideration when purchasing more expensive watches. Once again, it would help to consider who you're buying for and the budget you have to work with. 
Band Material
The material of the band matters a lot. If you buy a watch with a less durable band, you will probably end up with a broken watch. Therefore, it is mandatory to keep your eye on the material. Furthermore, you can have a watch with a metal strap or one with leather. Leather bands are sturdy and easy to wear, whereas metal ones are pretty heavy and best for heavy wrists.
Ease
Ease, especially when it comes to buying a watch, should be taken into account when choosing a model. You should never buy a watch just because of its impressive features if you do not feel comfortable with it.
Trust the seller
Make sure you buy a watch from a trustable seller. If you buy it from an online store, ensure the marketplace has good reviews. You would probably not want to spend hundreds of dollars on an unauthentic and less durable watch. Buy online from an authorized dealer or a boutique site that carries quality brands is best. Ensure they offer a refund policy and check their reviews. Avoid them if you are in doubt. One of the most authentic wristwatch sellers in the UK is Watch Shop.
Many famous brands have watched the online store, including Calvin Klein, Hugo, Armani, Lacoste, and many more. Whether you want to buy a gift for your dad, or one for yourself, the Watch Shop has a watch of every style. With a good reputation and quality products, it is customers' favorite.