The Adobe Creative Cloud – It's the cheapest way to get access to two of Adobe's best apps: Lightroom and Photoshop!
Adobe Photoshop Lightroom
Adobe Lightroom is the most important application in any photographer's workflow!
It's the point where things start happening.
When you get home from a shoot, the first thing you have to do is to import the RAW files (you do use RAW, don't you?)
In Lightroom you can automatically back up images, sort and extract great shots, add tags and other metadata, fix any problems with your camera or lens and start the development of the process.
Although Lightroom's editing tools are a little simpler than in Photoshop, which we'll soon get to, it's a professional editing application. If all you want to do is adjust tone and contrast without making significant changes to the data in the image, this is the best app to use. With the latest updates, Creative Cloud Lightroom can even merge panoramas and HDR photos.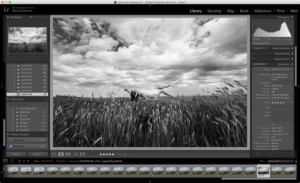 Even if you're doing most of your editing in a different application, Lightroom's role doesn't stop once you've imported and sorted your photos. When you're done making changes to your images in Photoshop or one of the many Lightroom plug-ins available, they will be sent back to the Lightroom directory. This means that all the original files and changes are stored together. You can see exactly what changes you've made to each file, and as long as you stick to non-destructive editing.
UNDO to the beginning!
Lightroom's powerful export engine makes it the best tool to save your photos. Whether you want to send a CMYK TIFF file to a professional printer, run some images on your home printer or simply save a low-resolution JPEG file for Facebook, Lightroom has the tools to do it right. And as with everything in Lightroom, it does this without affecting the original files.
Adobe Lightroom for mobile devices.
Lightroom is no longer only available on PCs and Macs. Adobe Lightroom for Mobile is a companion app for iOS and Android devices. You can synchronize photos between your desktop and mobile apps. Any changes you make on one will sync with the other. If you've just taken a few thousand photos, syncing them to your iPad and sorting them on the flight home is a dream come true.
Lightroom for Mobile isn't just a photo viewer – most of the desktop editing features are available. If you want to make a photo brighter, convert it to black and white, add a few shades, or even make some simple local adjustments, you can do it on the go. Again, all changes are synchronized with your main catalog, so they're waiting for you when you get home.
Adobe Photoshop
Photoshop is the defining product of Adobe. It is so popular that its name has now become synonymous with image editing. It is an application that many people register with Creative Cloud to get. You can do a lot of things with Photoshop!
But its main purpose is to edit images, and it gives you all the tools you need to do that.
Almost every image you see on a billboard, in a magazine, on a major website, or in the world has gone through Photoshop at some point. It's hard to overstate how versatile it is used by professionals.
It's the gold standard
If you're a photographer, Photoshop will detect where Lightroom ends up. This is the application you use if you want to make a big push of pixels.
Every photographer, whether they're shooting landscapes, portraits, or anything else, can find an application for Photoshop in their workflow. Landscape photographers can blend multiple exposures to create the perfect scene, while portrait photographers can remove blemishes, smooth out skin and enhance the beauty of their models. This is the Swiss Army knife for editing applications.
Photoshop is the defining product of Adobe. It is so popular that its name has now become synonymous with image editing. It is an application that many people register with Creative Cloud to get. You can do a lot of things with Photoshop.
Adobe Photoshop Fix and Mix
As with Lightroom, Adobe isn't ignoring mobile devices. Photoshop Fix and Photoshop Mix provide some powerful Photoshop tools for iOS devices.
Photoshop Fix is designed to fix images. It has tools to remove blemishes, dodge and burn, adjust color and contrast, and liquefy your photos. It's perfect for retouching any portraits you take on your iPhone.

Adobe portfolio and Behance
There's no point in uploading great photos if you never share them with anyone. With Creative Cloud, you get your portfolio website.
Adobe Portfolio provides everything you need on a portfolio website. You start with one of six great layouts and customize everything from there. You can sort images into projects, add more pages, and even use your domain name. If you need an easy way to create a website with photos, a Portfolio is a great way to do it.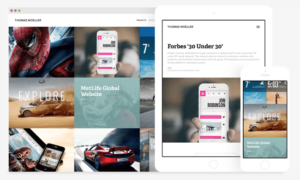 What's more, Portfolio also automatically syncs all your work with Behance, which is described as "the world's largest platform for showcasing and finding creative work". Creative directors regularly search Behance for ideas when looking for new talent to work with. If you want your work to be somewhere where people can find it, it's Behance
Adobe Spark
Adobe Spark is a new service for creating content for social media. It's an easy way to turn your images into social graphics, web stories, or animated videos. It's divided into three different iOS and web apps.
Spark Post is designed to create social graphics. You can take a photo, add text and great-looking filters and even animate it to create an overall image. If you've ever wanted to create your own motivational social media post, this is the way to do it.
The Spark Page is for long stories; the kind of stuff that doesn't fit in one post. Let's say you've just returned from a trip and want to share all the great photos you've taken with your friends and family. With Spark Page, you can create a beautiful magazine-style weblog with all the images and enough text to give them context. They no longer have to click through to poorly designed Facebook albums.
Sometimes a post or a web page is not enough. When you want more, you can use Spark Video. With Spark Video you combine all the great features of Post and Page with the ability to add supersonic text, cinematic motion, and professional quality soundtracks. It's the easiest way I've found to create beautiful short videos.
Adobe Premiere Clip
Adobe Premiere Pro is Adobe's commercial video editing application. Although it is not included in the Creative Cloud Photography package, the mobile version, Adobe Premiere Clip, is included in the package.

Like Photoshop Fix and Mix, Premiere Clip provides some of the best features of the basic smartphone app. It's an easy way to quickly edit clips, add titles, soundtrack, transitions, effects, and settings. If you've shot an interval timeline and want to add music or a gradual addition to the beginning, this is ideal.
Unlike some apps released by Adobe, Premiere Clip is available on iOS and Android devices.
Features of Creative Cloud
Although apps get most of the attention, Adobe Creative Cloud has some great server features that you wouldn't know how to live without.
Syncing keeps your settings, actions, and projects the same on all your different devices. If you're editing an image in Lightroom Mobile, this is what syncs everything back to your main catalog.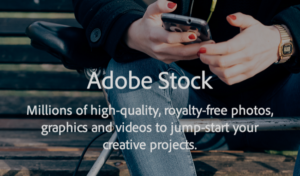 Libraries are another recent addition to Creative Cloud and a great way to make sure your commonly used resources are available everywhere. If you have a collection of photos, fonts, or anything else that you use regularly, you should store them in a library.
With Creative Cloud, you also have access to TypeKit and Adobe Stock, where you can buy professional fonts and stock images respectively. Although you're more design-orientated, if you're working on composition or poster, direct access from Photoshop to Adobe's huge catalog of resources can speed up your work.