This article will focus on footwear for travelling outside the city and on the tarmac. Experienced travellers will agree that there are primary and secondary things in travel gear. Footwear is probably the most basic element! They ensure that you don't get your feet wet, get blisters, hurt your soles, get less fatigue – and therefore enjoy your adventure more fully.
Shoes for trekking in the mountains – the challenge of choosing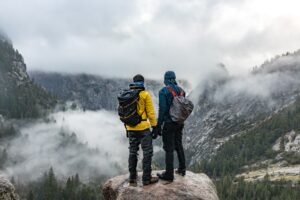 Many of us have a difficult choice when we visit a specialised shop. Today's range is overwhelming – what to choose?
First, let's look at the main types of footwear for travelling to 'uncharted places'.
hiking (backcountry hiking) – leisurely walks in low-lying terrain. These can be trails and paths in extensive parks, nature reserves or urban areas. Usually undertaken when the weather is favourable. The footwear for such places may be trekking sandals or almost any kind of trainers, depending on the temperature
light trekking (easy hikes of short duration) – A "transition link" between hiking and trekking. It is essentially the same as hiking, but it is longer and the terrain can be very rugged, with long climbs and descents. Hiking shoes are suitable, but if you are an inexperienced hiker without the ability to walk a lot and easily, it is advisable to protect your feet with something more serious.
trekking (hiking on very different terrain, usually lasting several days) – You'll find them on the feet of travellers all over the world, from the tropical jungle to the polar regions. Hiking boots in this category are suitable for most types of travel outside the tarmac. Their versatility is a major advantage.
hard trekking (hiking in hard terrain, far away from civilization, in hard weather conditions, often with elements of difficult ascents) – This is actually a transitional step between trekking and specialised climbing shoes. They differ from the previous group with their rigid "unbendable" sole, the presence of a rear instep under the crampons (so called "semi-automates"), and thicker upper material.
and mountaineering (mountain climbing in very difficult terrain, in conditions of ice and snow, low temperatures, rarefied air, with elements of climbing and ice climbing as well as dizzying descents on a variety of surfaces) – The pinnacle of outdoors footwear, both in terms of price and the technology used. They feature complex layered soles, often with steel reinforcements and special welt at the front and back for automatic crampons or ski touring bindings.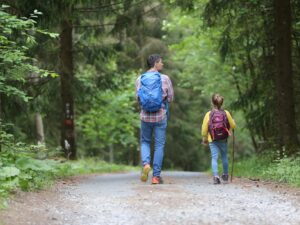 For decades now, so-called membrane technology has been widely used in footwear production, and is well known to many in the clothing industry. The big-name, high-end brands generally use GORE-TEX membranes, while others use membranes made in-house or by lesser-known brands.
Just in case you remember, the membrane is applied to the intermediate layer of fabric and forms a kind of "stocking" inside the shoe – waterproof on the outside, but vapor permeable on the inside. The shoe does not seem to get wet, but at the same time it breathes well.
That would seem to be an idyll. But, unfortunately, it's not quite like that. Why not?
First, a waterproof membrane does get wet after a while, which depends on various factors. Sometimes all it takes is one "very wet" day. Also, sometimes water can penetrate into the shoe "through the top".
Secondly, the breathability of a boot with a membrane is usually still inferior to the same boot without it, which is important for hiking in hot places. Wet membrane shoes are VERY problematic to dry in hiking conditions and you will have to walk in wet shoes indefinitely. Therefore, with some reservations, we can recommend membrane shoes to those who move around in not very wet conditions, or have the opportunity to dry them occasionally in comfortable conditions. For quite "wild", multi-day, and even multi-week hiking can be recommended to wear shoes without membrane, with maximum high rubber strap around the perimeter, to protect the shoes from getting wet, you can use additional ointments and impregnations. At the same time, such shoes have a chance to dry in the field. In mountaineering activities in conditions of increased wetness (frequent water crossings, very wet snow, etc.) you should consider double shoes, the upper shoe of which is made of plastic.
Models to consider when choosing shoes for trekking and hiking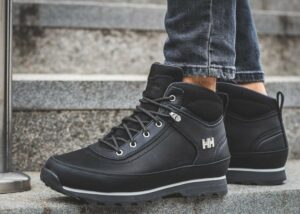 A full grain leather upper and soft, breathable mesh around the ankle and tongue lend the Helly Hansen Mens Calgary Boot unbeatable protection and comfort for walkers taking on cold conditions. Designed for the winter, they're fully waterproofed, feature a quality EVA midsole for cushioning and shock absorption and enjoy a HellyGrip rubber outsole with a thick tread for stability, giving you a smooth and comfortable ride no matter the terrain.
Premium quality full-grain leather.
Waterproof leather.
water repellant synthetic leather.
Eva Midsole.
HellyGrip Rubber.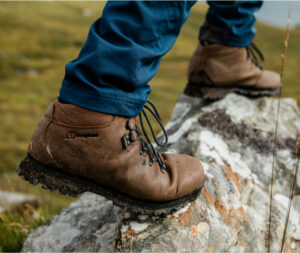 The Mendip 3 Mens Waterproof Boots from Karrimor are designed to keep your feet comfortable, fresh and supported over rough terrain. Durable and high performance, they're made of Weathertite Crazy Horse leather and boast a high traction Dynagrip 037 outsole for superb traction and grip over the trials.
Crazy Horse Leather.
Weathertite.
Phylon Midsole.
Dynagrip 037.
520g.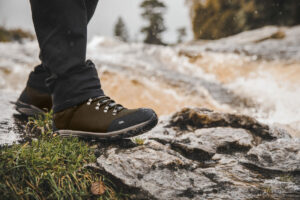 Breathability and waterproofing are the main features of these Trespass Men's Gerrard Waterproof Durable Hiking Boots. The mid-cut style with metal lacing hooks at the ankle add to their contemporary look. These hiking boots have cushioned collar and tongue for a stable and supported wear.
Waterproof and Breathable Membrane / Mid Cut Hiking Boots.
Protective and Durable Rubber Toe Guard and Ankle Supportive Cushioned Collar and Tongue.
Arch Stabilising and Support Shank / Gussetted Tongue.
Cushioned Footbed and Durable Traction Outsole.
Upper: Leather – Lining: Textile – Outsole: Vibram, Moulded EVA/ Rubber.
Whether you're hiking through the countryside, or tackling a decidedly more vertical route, the MTN Attack 6 Texapore Mid walking boots are ready to give you the support and comfort you need. This waterproof boot will keep your feet dry and comfortable, while its breathable construction provides all the ventilation you'll want.
Hiking Boot For Hikes With A Medium-Weight Pack. Waterproof, Very Breathable.
Robust. Good Grip And Support.
Suede Leather And Robust Fabric. Lightweight Hiking Sole.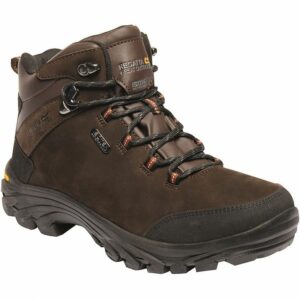 The Regatta Men's BURRELL Walking Boots are made of leather Isotex and are waterproof. These are seam-sealed and feature a full grain leather and breathable mesh upper. Hydropel water-resistant technology makes sure your feet stay dry. Also, the collar and tongue are deep padded, whereas the toe and heel bumpers are rubberised. Lastly, these shoes come with Vibram outsole for exceptional traction and durability.
Isotex waterproof footwear – seam sealed with internal membrane bootee liner. Full grain leather and breathable mesh upper.
Hydropel water resistant technology. Deep padded collar and tongue.
Rubberised toe and heel bumpers. EVA comfort footbed.
Stabilising shank technology. Vibram outsole for exceptional traction and durability.
You should also remember that your shoes need careful care, and the more technologically advanced they are, the more care they require. Before you buy them, ask your shop assistant for advice on what care products to buy. Buy special trekking socks at the outset, taking into account the region you are planning to visit. This will protect your feet from chafing and blisters. Choose your shoes carefully in the shop; spend at least 20 minutes checking them.
Avoid buying shoes just before a trip – shoes for a trip should definitely not be new!
When choosing your shoes for your trips, remember: they must be able to support the weight of your backpack, which is often not light, i.e. for long-distance hiking for men it is + 20-30 kg to your own weight. Especially pay attention to this when choosing lightweight shoes for hot climates – hiking sandals, trainers, lightweight boots.
We hope this short review helps you choose the right footwear for your trip and make the most of your trip, no matter how challenging your itinerary is. Nowadays, the adventure shoe market allows you to find just "your" pair – something that you need specifically. We wish you the best of luck with your choice!