Is it possible to learn to play the guitar on your own: without courses, teachers, or schools? Our answer is yes.
Playing the guitar itself is not such a difficult and tricky task, of course, if you do not want to become Jimi Hendrix in 2 weeks.
Do you think that all musicians went to music schools for half their lives and studied with a mentor? Now you will see that a talented and diligent person can achieve success in music by studying on his own.
To begin with, let's see which of the world-famous guitarists learned themselves how to play the guitar and achieved worldwide success.
Jimi Hendrix was ​​a real virtuoso and a genius in his field. He changed the face of rock music. The guitarist mastered the instrument at the age of five. Hendrix didn't know how to read music, but that didn't stop him from doing absolutely amazing things with his guitar.
Saul Hudson (Slash) is a British guitar virtuoso. He is best known as the guitarist for the American hard rock band Guns N' Roses. In his youth, he worked out for 12 hours in a row. Now the sound of Slash, in whatever project he plays, has become a reference.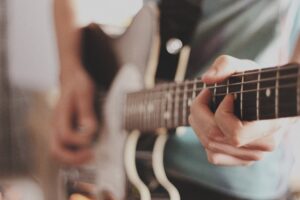 Eric Clapton started learning the guitar on his own at the age of 14, trying to copy the playing of the great blues guitarists. Self-taught Eric Clapton is the only musician in the world to have been inducted into the Rock and Roll Hall of Fame three times.
If people used to manage to master the guitar skills when there was a lack of information, now on the Internet you can find an abundance of video lessons, tutorials, according to which you can learn to play the guitar yourself for free. So, for example, on YouTube you can find an analysis of the most popular songs with chords and rhythmic patterns.
So how do you learn to play the guitar?
Usually, setting ourselves the goal of learning something new, we run into the question: where to start? The same problem arises for people who decide to learn to play the guitar on their own.
Today we will share with you how you can learn the basics of playing the guitar at home and what you need for this:
– guitar
But do not rush to spend money. If there is an opportunity to borrow an instrument from friends or relatives, use it. Suddenly you don't like it? You will always have time to buy a guitar, but it will be problematic to sell an instrument.
– guitar tuner
For a guitar to sound good, it must be in tune. Therefore, you need to learn how to configure it yourself. Can't tune by ear? Download a tuner to your phone and it will do everything for you.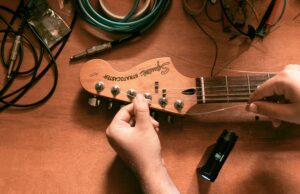 – proper pose, hand position
Pay special attention to proper posture and hand placement. This is important because playing the wrong game will hinder your progress and can cause overwork, muscle tightness in the future. On the Internet, you can find many photos and videos on hand placement and landing.
Of course, ideally, it is better to take a couple of lessons from a professional. No matter how hard you try, it's still more visible from the outside.
As for sound extraction, pay special attention to the right hand. Proper sound production is a key condition for the purity of music. In the tutorials, you will find many exercises for the right hand. First, perform them only with the right hand, then add the left, changing the chords. This way you will develop hand coordination. Subsequently, you will have no problem playing the rhythm with your right hand, and holding the chords with your left.
– chords
The guitar is tuned, the hand is set, it's time to start learning the chords. You can find them in all tutorials and on the Internet. Start simple: from Am to Dm, etc. To play the guitar, you need to quickly change chords. How to work it out? Take 2 chords and move from one chord to another within a minute: Am-Dm-Am-Dm… At first, the fingers after this exercise will become wooden, but after a few days of regular practice, you will see progress.
– right-hand technique
First, forget about the mediator, master the finger technique. Learning it yourself is not difficult, it is a matter of technique and time.
– songs
You have mastered the minimum set of knowledge and skills. It's time to move on to the songs. Find some easy songs and try playing them. Slow songs should be performed by brute force, fast songs by battle. At first, it will be difficult to remember chords and rearrange fingers in time, but this skill develops quickly.
– performance of compositions
Mastering musical literacy will require serious effort and a lot of time from you. An easier option is to use tablature. These are schematic images that show which string and on which fret you need to clamp. Today you can find a large number of programs or applications that present music in the form of tabs. For example, Guitar Pro.