What to wear to celebrate the New Year of the Water Tiger
2022 is the year of the Blue Water-Tiger according to the Eastern calendar. Although it doesn't start until 1 February, there's nothing to stop us from celebrating "our" New Year in the appropriate outfit. So, what do astrologers recommend?
What colour to choose to celebrate the year of the Water Tiger
The easiest part is the choice of colour. After all, the answer to the question of what colour to celebrate New Year 2022 in is obvious: it's the whole blue palette. Tiger colours such as yellow, orange, brown and black will also be a good choice. And, of course, the host of the year will love a print that mimics the colour of his skin.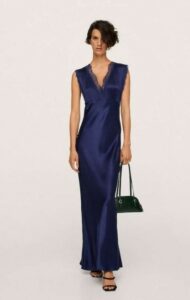 But neon colours, leopard and snake prints should be avoided as the tiger is unlikely to be happy about it.
When choosing a dress, pay attention to the material. Synthetics should not even be tried on! Fabrics should only be natural: silk, suede, leather.
View this post on Instagram
As for style, it doesn't have to be pretentious and elaborate. The graceful Tiger prefers elegance and grace. Water, being the most important element of the year, should also be taken into consideration. All of this together gives us a few directions to look for patterns: look for graceful flowing dresses with a 'twist' in the form of asymmetry, exposed shoulders, slits or draping.
Both fitted dresses and lingerie-inspired pieces are a good choice. And the classic little black dress is finally time to go all out! Especially if it's embellished with interesting details.
Silver or gold accessories are perfect for adding sparkle to your look, as the metal enhances the water effect and the shiny jewellery, shoes or handbag are perfect to match the festive look.
Fashionable New Year's Eve dresses
Designers have also given their opinions on New Year's Eve outfits. Evening fashion is always more conservative than pret-a-porter, so the new collections will feature traditional evening dresses with sequins and ruffles, embroidery and lace, pleating and fringe (pay special attention to it, it's one of the hottest trends of the season!). Designers offer long-sleeved and bustier dresses, asymmetric models and short dresses for New Year's Eve parties.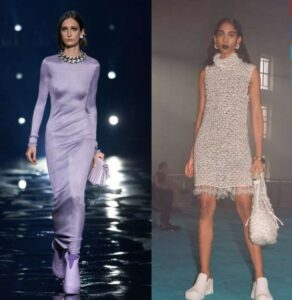 In short – the choice is wide enough, so if you wish, you can choose a dress taking into account not only fashion trends but also the wishes of astrologers. Look for the most beautiful fashionable evening gowns for the New Year in the collections of Zuhair Murad, Alice + Olivia, Alberta Ferretti, Versace, Christian Dior, Elie Saab and Pronovias.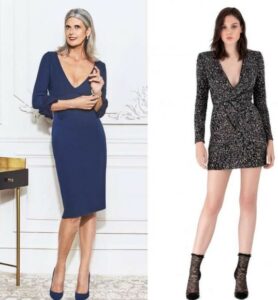 However, fancy dresses are not the only option for New Year's Eve. Evening trouser suits, jumpsuits, blouse sets or tops with skirts or trousers are worthy alternatives. Examples include Giorgio Armani, Zuhair Murad and Rosa Clará.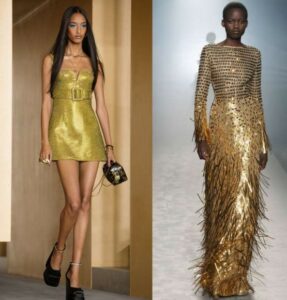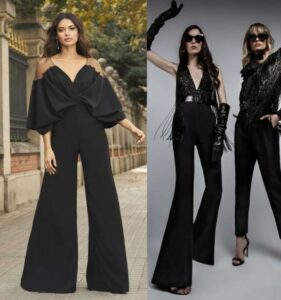 You can find the best deals at affordable prices at mass-market brands, but we recommend Lavish Alice. We recommend Lavish Alice for interesting and extravagant New Year's Eve looks. You might find the perfect look there.