The concept of the 'capsule' was introduced by Donna Karan, creator of the '7 Simple Things' collection. A basic wardrobe is a few things that are always and everywhere appropriate, whether it's a work meeting, a romantic date or a party.
What does a basic wardrobe consist of?
In fact, a basic wardrobe can consist of any number of items (an average of 7 to 30, including accessories). The main thing is that it should be versatile and that all items can be combined with each other.
How do I make a basic wardrobe from scratch?
The main attribute of the basic wardrobe are of course T-shirts and T-shirts in white and black – they go perfectly with jeans, skirts, trousers and jackets.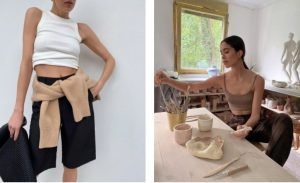 The next wardrobe essential is the classic cut jeans. Jeans have long gone beyond casual, and increasingly the item can be found in places ranging from the office to a wedding party. Quality jeans will go with T-shirts and as well as jackets.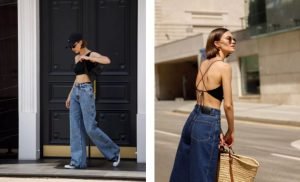 Tip: When choosing basic items, visualise them on yourself and remember what other items you already have in your wardrobe so that you don't have trouble putting together your looks after you've bought them.
Going further, you also need a monochrome blazer. The loose-fitting blazer is ideal in both classic and casual styles.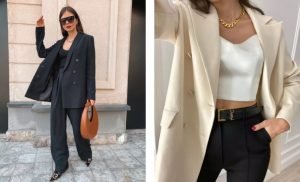 High-waisted trousers are basic. These trousers make the figure look more elongated. They look great with a classic shirt, T-shirt, and in general with any outfit. High-waisted trousers are a must in every woman's wardrobe.
The midi skirt is another staple in women's wardrobes. Whether it's classic, trapezoidal or even pleated, the 3/4 length has always been considered one of the most elegant skirt and dress options. This skirt looks winning in any combination, especially in combination with low-heeled shoes.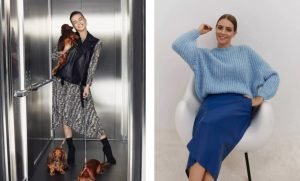 The lingerie-inspired dress is an essential piece in a girl's basic wardrobe. A jacket slung over the shoulders and heelless mules make the look casual and stylish at the same time. The dress also pairs well with voluminous jumpers and low-waisted shoes. A classic option is a combination dress and shoes with a small stiletto heel, you get a sophisticated and eye-catching look. Sexy looks lingerie-style dress with an open back, for example, in my collection in such a dress there is a delicate chain, framing the silhouette at the back – it looks very seductive.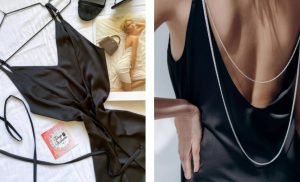 Tip: When putting together a capsule, look for solid colours – the less print and aggressive details, the easier it is to combine the piece with other items.
The classic loose-fitting shirt goes with everything without exception. Use it as a top layer, combine it with a lingerie-inspired dress and tie a knot to create a romantic look. The shirt can also be worn over a T-shirt and would go well with both jeans and classic trousers.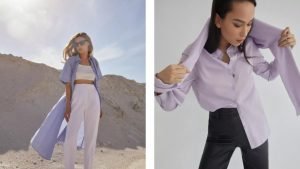 The camel-coloured turtleneck is also a basic piece of a woman's wardrobe, the main thing is not to go overboard with the collar, so it doesn't accentuate the neck too much. The turtleneck will easily fit into sporty, office and casual styles. Combine it with trousers and skirts of different lengths, adding accessories of your choice.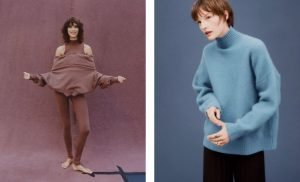 What to consider when putting together a basic wardrobe: 5 useful tips
A basic wardrobe is formed individually for each person depending on a number of factors, such as lifestyle, marital status, social status and climate of residence. For example, things that fit perfectly into a weekday student's life may not be suitable for a girl working in an office. Here are five tips to help you create a basic wardrobe that's right for you.
1. Follow your own style, not fashion
Fashion is a weighty but capricious value. Although fashion is cyclical and therefore often repeats the trends of past years, it still changes with each season. Find your own style and dilute it with trendy elements. A seasonal handbag or shoe is perfect as an on-trend accent.
2. Take your age and social status into account
Women 45+ may have high-profile jobs and a certain social status, so their wardrobe should be appropriate for their situation. Obviously they wouldn't wear fancy clothes or acid colours – in this case, it's a mauvais ton. However, such items of wardrobe will fit perfectly into the image of a teenage girl. When putting together a capsule wardrobe, keep in mind how you want others to perceive you.
3. Emphasise your strengths
Each of us is beautiful in her own way: some have wide hips and a waist, some have long legs – it's rare that a girl combines all the characteristics of a perfect figure. Pay attention to your strengths and try to play on them skillfully, do not be shy to emphasize what is really beautiful about you. And vice versa, if you feel ashamed of any part of your body, your silhouette can always be corrected by wearing the right cut and style.
4. Dress for the weather.
If you live in a northern part of the country but your wardrobe consists of light lingerie dresses and shirts, this capsule looks impractical to say the least. Be aware of climatic conditions and local weather variations and choose items for your wardrobe, adjusting to natural phenomena as well.
5. Experiment!
Don't be afraid to wear a skirt from last year's collection with trendy mules and an asymmetric cut blouse. Add bright elements to your basic wardrobe: it can be, for example, shoes, a handbag and a top in the same colour, everything else is from a capsule. The rule of thumb for a perfect combination is no more than three different colours in an image. Take advantage of it and shine!
How do you match bright accents to your basic wardrobe in 2021? Try adding on-trend pieces from the season to your wardrobe: