Some mothers are convinced that you can never have too much baby stuff and buy twenty pairs of tights and fifteen pairs of shorts, or have a dozen dresses for a little princess hanging in their wardrobe. It would seem that this is good, especially if the family budget allows you to replenish the wardrobe without stopping. But there is one problem: children are conservative and even the biggest fashionistas have their favourite things, which they are ready to wear every day, even when they no longer fit into them. But other dresses, capri pants and the most fashionable bolero are still hanging in the wardrobe untouched.
So what's the bare minimum a baby should have after one year, so that socks and knickers don't suddenly run out and fancy dresses don't sit idle on a rack? Let's try to sort things out and put them neatly in baskets.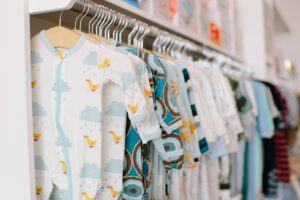 Let's start with the underwear. Here everything has to be exactly the right size. Six to eight panties are enough, but the issue of tank tops is decided separately. Some wear them and some don't. Be guided only by your baby. If we talk about shirts, they should be the number of panties, and it is desirable that they are a set.
And of course pyjamas! If your child attends kindergarten, there should be two, preferably interchangeable, complementary ones. One for home and one for kindergarten. And of course, pajamas should differ by season: Separately, the winter warm and summer light. Many children do not sleep in pajamas. If your child is one of them, just forget about the existence of such a wardrobe item.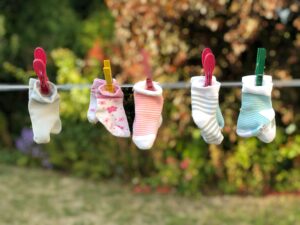 What to buy:
You can never have too many tights, can you? That depends. Six to eight pairs are enough. Of course, they have to be different densities depending on the season. And the girls should also have weekend white tights for the holidays. Mothers of boys have different attitudes to tights. Some believe that this is purely feminine wardrobe item and buy the boys from an early age just underpants or long socks, while others prefer tights. If you're close to the second option, six to eight pairs will be enough for a boy.
If you're always collecting children's socks around the house, there are simply too many. Seven pairs is more than a decent stockpile of socks. If you really want to, you can add two pairs of dressy socks for special occasions.
Socks we buy by season, thin in the summer, dense in the spring-fall, thermal and woolen in winter. Try not to mix them up so you don't find your child running off slapping in puddles in rubber boots on an elastic sock.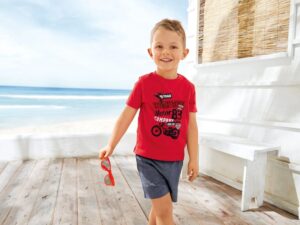 T-shirts are comfortable and stylish, there are so many prints to choose from! And you want to buy them all for your baby and then add them to your collection in a week or two.
However, 5 to 7 T-shirts, half thin and half thick, will be enough.
As for longsleeves, jumpers and jerseys, you need even less. 2 jumpers and 2 sweatshirts are enough. But it is better to have a stock of longsleeves – ideally 7 for each day of the week. When your child starts kindergarten, this will solve the question of what to wear.
What to buy: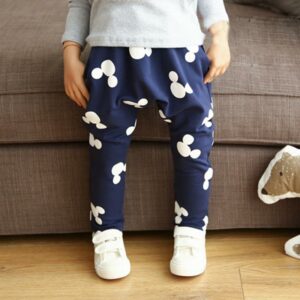 Moving on to skirts, trousers. 2 – 3 pairs of jeans are enough to complete a basic wardrobe. Girls may also have 2 to 3 skirts, boys 2 to 3 pairs of shorts, kindergarteners a little more (but no more than 5 to 7) for the reason that they have to be washed all the time.
If the girl likes leggings, 3 to 4 pairs will be enough. It is ideal to buy them so that they go with T-shirts, longsleeves and can be worn with sundresses or dresses.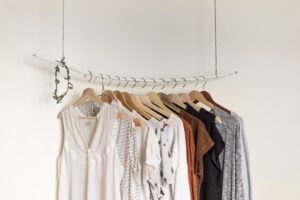 By the way, about the dresses. It goes without saying that a mother wants her daughter to look like a princess. But it's important not to go overboard. Make a rule: 1 dress for every season. Then at every celebration in the garden, your daughter will look fabulous, but the wardrobe will not be broken up with clothes.
It is enough to have 4 to 5 everyday dresses. However, you should pay attention to what your daughter likes to wear. There are girls who do not get out of dresses. And then they can only buy a pair of jeans as a reserve and cut down on T-shirts and sweatshirts. And there are those for whom it is more comfortable to race in leggings and T-shirts. They only need dresses for going out.
What to buy:
Outerwear
When you want to buy your child a smart, stylish, powder-coloured coat, think about what it will turn into after the first walk. If you really want it, buy it, but it only makes sense to put it on your child when you go to a visit, a theatre, a museum or somewhere similar.
Move on to outerwear. Ideally, the wardrobe should look like this:
1 warm winter jacket + 2 pairs of warm winter trousers (dungarees)
1 set of demi-season boots
Every child should definitely have one outfit or set for visiting or going to the theatre! For a girl it may be a sundress with a blouse or blouse and skirt, for a boy it may be a fancy shirt and trousers, and perhaps a waistcoat as well.
What to buy:
Accessories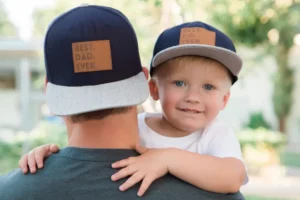 Shoes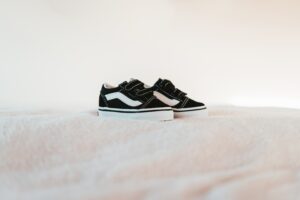 Now the weak point of almost all women is shoes! When you look again at the adorable bow-tie shoes for your little one or the trendy light-up sneakers for your athlete, think about the fact that they won't be worn for more than six months – their feet will grow out. So in the galoshes, your little one should have some:
As you can see, sorting out your baby's wardrobe is not that difficult. Sort things out more often and make sure they are the right size and height.