Bluetooth speakers and music are the perfect pair, like fish and chips, Netflix and chill, and ballroom dancing and sparkles. These affordable little sound systems can turn anyone's phone into a portable music player, perfect for your next adventure. Plus, with no wires to trip over and the ability for friends to connect wirelessly, the selection of music is endless. And, many models are even waterproof, making them a must-have for beach or pool parties.
One brand to check out is JBL, known for producing some of the best Bluetooth speakers on the market. We'll take a look at the different options JBL offers, their unique features, and help you find the perfect fit for you. We even did some research to find the best deals for you!
Sure, as with most products, you typically get more features with higher-priced JBL models. Generally speaking, the more you spend, the larger the battery, which means more hours of music before needing a recharge and the ability to charge other devices like your phone or tablet directly from the speaker.
Great, let's dive in and figure out the best JBL speaker for you! All you need now is a fun and exciting trip to enjoy it on.
JBL Flip 5 vs Flip 6
The JBL Flip 6 is an upgrade from the popular Flip 5. It has the same racetrack-shaped driver as the Flip 5, but now has a separate tweeter and dual passive radiators for added depth and power. The Flip 6 is also more durable than its predecessor, with a rating of IP67, meaning it is completely dust-tight and can survive full submersion in up to a meter of water for 30 minutes. Bluetooth version has been upgraded from 4.2 to 5.1 and has the same PartyBoost feature, allowing you to wirelessly pair it with other JBL speakers for a louder sound, and has a 12-hour battery life. The Flip 6 comes in a variety of new color options including Dusty Pink, Grey Stone, River Teal, Fiesta Red, Ocean Blue, Midnight Black, Steel White, Forest Green and Squad.
The Flip 6 is a newer version of the popular Flip 5. It has a racetrack-shaped driver, a separate tweeter, and dual passive radiators that give music more depth and power. It's also more durable, with an IP67 rating, making it both waterproof and dust-tight. The Bluetooth version has been upgraded to 5.1 and it has the same PartyBoost feature, allowing you to pair it with other JBL speakers for a louder sound. The battery life is still 12 hours and it comes in a variety of colors.
JBL Charge 5 vs Charge 4
The Charge 5 is the latest addition to the JBL Charge line and it's packed with amazing features! Not only can it play your music for 20 hours straight, it also doubles as a portable battery pack to charge your phone or tablet.
The Charge 5 is now even more durable than its predecessor. With an IP67 rating, it can survive being submerged in water for 30 minutes and is completely dust-tight. The exterior has also been updated with a more robust rubberized reinforcement on the ends and the speaker itself is slightly bigger than the Charge 4.
On the inside, the Charge 5 has a larger 52x90mm bass driver and a new 20mm tweeter, both with dedicated power amplification for even better sound quality. Plus, it now has Bluetooth 5.1 for a stronger and more reliable wireless connection.
With JBL's PartyBoost mode, you can wirelessly connect the Charge 5 to other JBL speakers and even create a surround sound experience by syncing multiple speakers. You can even connect two smartphones or tablets to the Charge 5 at once, so you and a friend can take turns playing DJ. And with plenty of color options to choose from, the Charge 5 is sure to match your style.
The Charge 5 and 4 both received 5 stars in our reviews, but with the added features and no significant price drop in the older model, we highly recommend checking out the Charge 5.
JBL Link 20 vs JBL Link Portable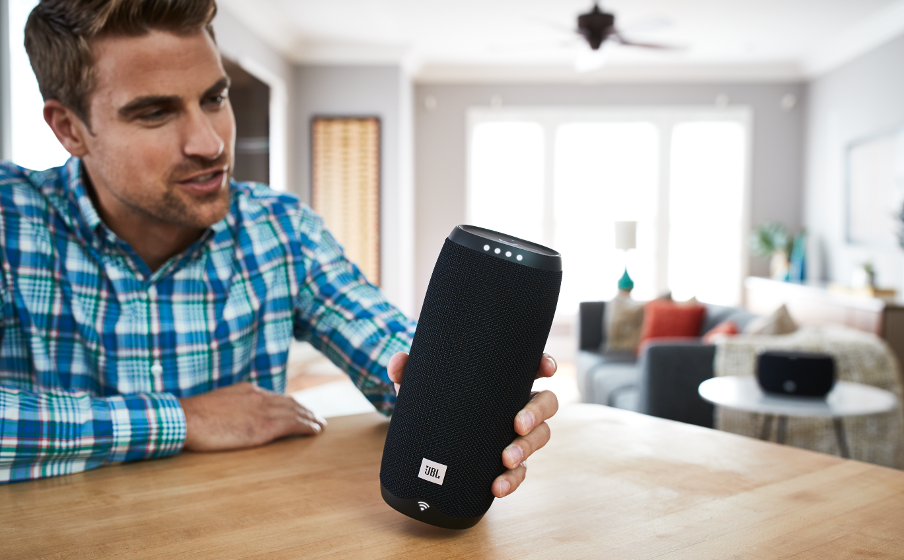 The JBL Link 20 and Link Portable are smart speakers that are designed to be both waterproof and portable. They are equipped with Google Assistant and can be connected to other JBL speakers using the PartyBoost feature. The Link Portable is a highly portable speaker that is designed to be taken on the go and can survive being submerged in water for up to 30 minutes. It also has an eight-hour battery life and delivers top-notch sound quality for a smart speaker. It received high ratings in reviews, with many praising its instrument separation, drive, attack, and detail. Overall, the JBL Link 20 and Link Portable are great options for those looking for a portable and waterproof smart speaker with excellent sound quality.
JBL Go 3 vs Go 2
The JBL Go 3 is the latest model of JBL's most affordable speaker, the JBL Go. The Go 3 has undergone a design overhaul, with a fabric-covered metal grille and a more rounded shape. It also has a chord loop and an uncovered USB-C port that is dust-tight and waterproof. Additionally, it has reinforced rubber panels for protection, Bluetooth 5.1 for increased wireless range, and a power increase to 4.2W. However, it has removed the Go 2's LED power indicator, 3.5mm port for wired listening, and mic for speakerphone duties. The battery life remains the same at five hours and takes 2.5 hours to charge fully. The Go 3 has several improvements over the Go 2, and can be found at a cheaper price. So, it is considered as a better option.