The festive season is a time for joy and celebration but can also be stressful. Planning for Christmas can be daunting and overwhelming. But don't worry! Jojo Maman Bebe is here to make the holiday season more enjoyable. Specializing in everything you need to make your Christmas merry and bright, this one-stop shop offers an array of products perfect for any occasion. 
They have something that will fit your needs, from decorations to festive outfits and gifts. JoJo Maman Bebe has covered you, whether it's something unique or classic. Today in this blog post, we will review JoJo Maman Bebe's festive collection JoJo Maman Bebe offers something for everyone to get you in a festive mood.
Find Out More About Jojo Maman Bebe
Laura opened Jojo Maman in 1993. It's a unique and stylish clothing store with a wide range of items for babies, toddlers, kids, pregnant women, and even the home. From maternity apparel to baby essentials, everything is designed with style and practicality in mind. 
Jojo Maman also carries toys and gifts such as cuddly stuffed animals and books. Home accessories such as blankets, nightwear sets, and bedding are also available. The brand is known for its commitment to sustainability, using eco-friendly materials to make all its products. 
Each collection features beautiful designs made with comfort, quality, and craftsmanship in mind. For those who love fashion but want something more ethical on the market, Jojo Maman fits the bill perfectly!
Festive Inspiration For Christmas.
In the following paragraphs, we have compiled a list of some of the most festive inspiration ideas for Christmas.
Advent Calendar For Toy Workshop
Let the holiday season begin with the JoJo Maman Bebe toy workshop pre-filled advent calendar. This charming wooden set will surely bring a smile to your home for the entire holiday season. This calendar will become your family's favorite tradition, featuring 24 adorable drawers that open out into a delightful play scene and come filled with wooden figures. 
Children will love discovering what surprises are tucked away inside each day in the lead-up to Christmas Day while gliding Rudolph and his friends through the snow or putting the elves to work. With its sturdy wood construction, you can use this advent calendar annually so your family can make new memories each year during the festive period. 
Spread Christmas cheer and create lasting memories with the toy workshop pre-filled advent calendar!
After Discount: £17.50 
Before:£35.00
Fair Isle Knitted Snowman Stocking
JoJo Maman Bebe's Snowman Fair Isle Knitted Stocking is the perfect addition to any Christmas decor. This stocking features an adorable snowman motif, soft knit fabric, and a hanging loop for easy display. It is 47cm in length and not a toy, so it's excellent for displaying festive decorations or used as a gift bag on its own! 
The beautiful fair isle-inspired design will surely bring holiday cheer with its classic style that everyone can appreciate. Kids will love its sweet snowman motif, making it the perfect choice for family celebrations. Personalize this stocking with your child's name to make the season even more special! 
With JoJo Maman Bebe's Snowman Fair Isle Knitted Stocking, you can bring festive joy to your home while keeping your Christmas decor traditional and classic.
Price: £19.00
Pyjamas With Navy Highland Cow Tartan
Christmas is the perfect time to add a little festive fun to bedtime, and these Navy Highland Cow Tartan Pyjamas from JoJo Maman Bebe are an easy way to do it! With classic check bottoms for a traditional look and an adorable appliqué of a Highland cow wearing a Christmas hat, these PJs will have your little ones looking stylish – and excited – for bedtime. 
They look great and are made with sustainable cotton, so you can be sure your kids are sleeping comfortably. Comfortable elastic waistband and a cotton front panel to avoid irritating sensitive skin, these pajamas are perfect for even the fussiest sleepers. 
With fire safety in mind, this festive sleepwear is designed to keep your children safe and sound. 
After Discount: £14.70
Before Discount:£21.00
Sleepsuit With Appliqué Reindeer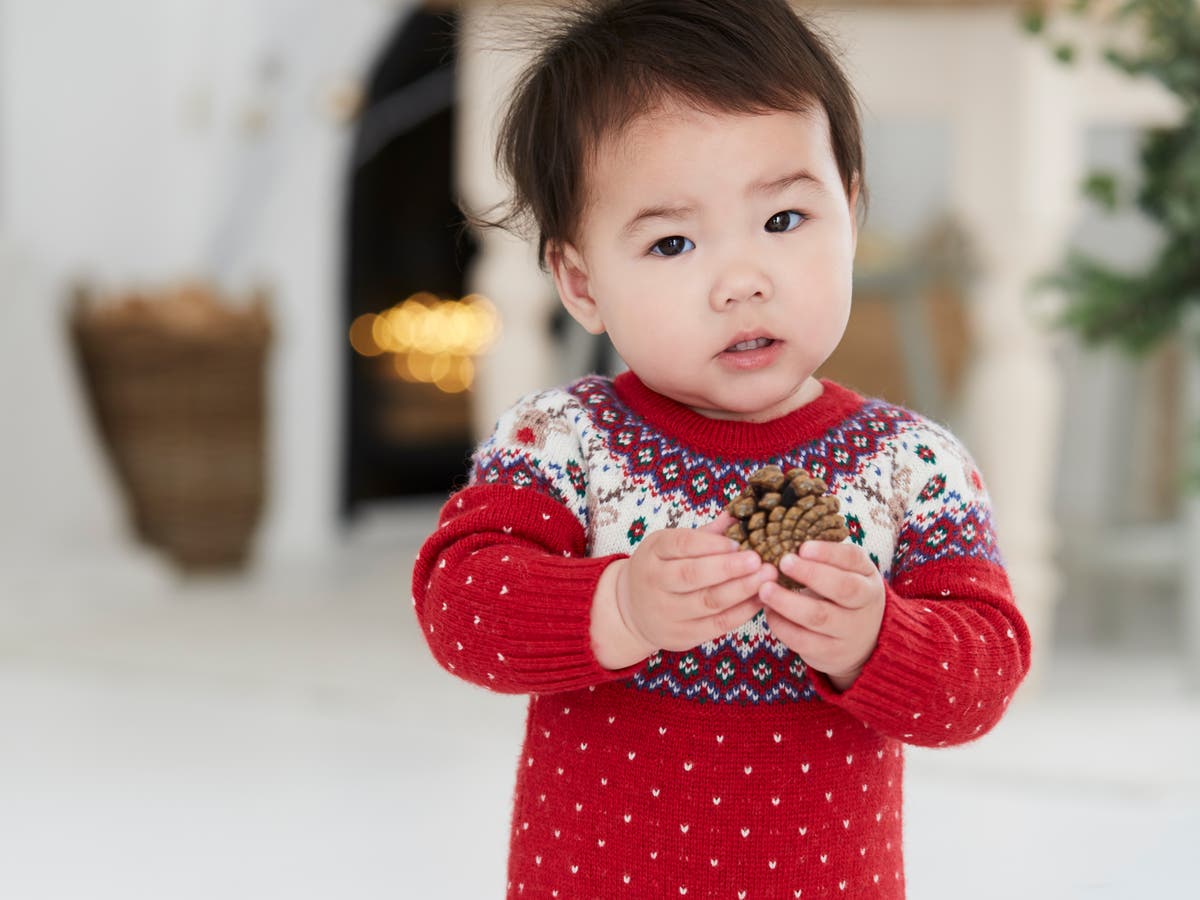 Make this Christmas special with the Striped Reindeer Appliqué Sleepsuit from JoJo Maman Bebe. This adorable sleepsuit is perfect for keeping your little one comfortable and cozy while looking super festive. 
This sleepsuit features an all-over stripe design and a reindeer appliqué on the front and feet, offering comfort and style. The zip fastening makes nappy changes more effortless than ever, while the fold-over scratch cuffs on sizes up to 9-12 months provide extra protection against scratches. 
For dimensions 9–12 months and above, non-slip dots on the feet ensure they can move around safely at night. Keep your little one warm this season with the Stripe Reindeer Appliqué Sleepsuit from JoJo Maman Bebe.
price:£23.00
Wrap-Up:
This holiday season, JoJo Maman Bebe has everything you need to decorate your home for the season. Whether looking for something fun and playful like the Toy Workshop pre-filled Advent calendar or classic and traditional like the Snowman Fair Isle Knitted Stocking, JoJo Maman Bebe has it all. 
Other great Christmas pieces include their Navy Highland Cow Tartan Pyjamas and Stripe Reindeer Applique Sleepsuit, both perfect for keeping your little one warm and snug during the colder months. With JoJo Maman Bebe, you can make this holiday season memorable with lower prices after using different coupon codes. Shop now and get your festive decorations just in time for Christmas!
Happy holidays and happy shopping!