In the world of automobiles where cars are becoming part of our day-to-day lives, we have grown fond of car technicians who help us fix our cars and also certify that they are in great shape for us to use. They also do basic auto care and maintenance jobs including oil changes, fluid level checks, and tire rotation. Some of their responsibilities include explaining automobile repairs and difficulties and offering excellent customer service. Brake pads, wheel bearings, sensors, and other components can be repaired and replaced. 
Furthermore, in contemporary developed nations, basic car maintenance is an essential component of a mechanic's job, while in other nations, they are only contacted when a vehicle is already exhibiting symptoms of failure. A mechanic's work also includes doing preventive maintenance, however, this cannot be done on cars that are not frequently serviced by a technician. The periodic replacement of various parts, which takes place before failure to avert much more expensive harm, is one misunderstood element of preventative maintenance. In this article, we will be looking at the best car tech company in the Uk.
This company called Carly uses automobile technology to connect drivers with information that is stored within their vehicles. They offer straightforward solutions for all phases of automobile ownership, giving you peace of mind and enabling you to save time and money. Their goal is to provide drivers with a dependable partner who can provide insightful data.
Core troubleshooting functions
You may have all engine-related faults and issues shown on your phone's screen while using the Carlyapp, and you can even eliminate them right away if required. Simcolourolor coding also indicates the true severity of the discovered mistake and whether you need to take quick action. For this so-called "scan at the manufacturer level," you will need the PRO version if you wish to view the recorded messages of the other ECUs that are now present in your car in addition to the fault codes that solely impact the engine. This test also covers non-engine systems, however as this varies from manufacturer to manufacturer, you should find out in advance which ECUs are evaluated on your particular car model.
The Carly app's emission check, which is supported even in the free version and is also accessible for all car brands, is a significant extra feature. By measuring the number of pollutants leaving your car's exhaust, you may determine whether any exhaust-related parts are defective. Even though your automobile must undergo routine emissions testing by law, you may find any potential issues by doing yown test beforehand and having them fixed before the official test.
Additionally, you may access real-time vehicle data, or "live data," while you're on the road and have the oil temperature, turbo boost pressure, or other pertinent numbers shown on your screreal timel-time. The PRO version of the Carly app may be worthwhile to check out if you just purchased a used car or are about to do so. 
It features a used car check that enables you to examine your new car for potential speedometer tampering and maybe negotiate a large discount off the purchase price. In certain circumstances, you may avoid going to the shop by using the detailed instructions included in the PRO edition to conduct basic maintenance tasks on your car yourself, such as resetting the battery.
Additionally, you can obtain your car's diagnostic and repair reports via the app as PDF files, which will help you record your car completely and maybe fetch a higher selling price if you ever decide to sell it.
Last but not least, we'd like to introduce you to the Smart Mechanic feature, a relatively recent addition to the Carly app. allows youunity to fix numerous issues yourself and cut down on workshop fees by using in-depth mistake explanations from skilled auto mechanics. Additionally, as the original plans are also used in the workshop, you have direct access to them. However, the PRO edition does not include this feature; instead, an additional activation is needed.
Using the Carly app, you may customize hundreds of features in your car, including many standard settings that the manufacturer has pre-set. Examples of this include changing the automated start-stop system or different lighting options. However, as they might vary depending on the car type, you should once again confirm in advance which functional alterations are supported by the Carly app on your vehicle.
This is a key benefit of the Carly app, as practically all automobile models in the world can execute fundamental tasks, such as defect diagnosis and emissions testing in particular. On the other hand, whatever functions are available and which might not be supported when it comes to the expanded options depends on the manufacturer and model. 
However, in general, it can be claimed that models from the manufacturers Renault, Porsche, Toyota, and Lexus, as well as those from the brands BMW, Audi, Volkswagen, and Mercedes, are also available with a variety of extra features. The Carly App's home page contains comprehensive information. Both Android and iOS smartphones can be used to install the app that is necesforry in addition to the diagnostic adapter.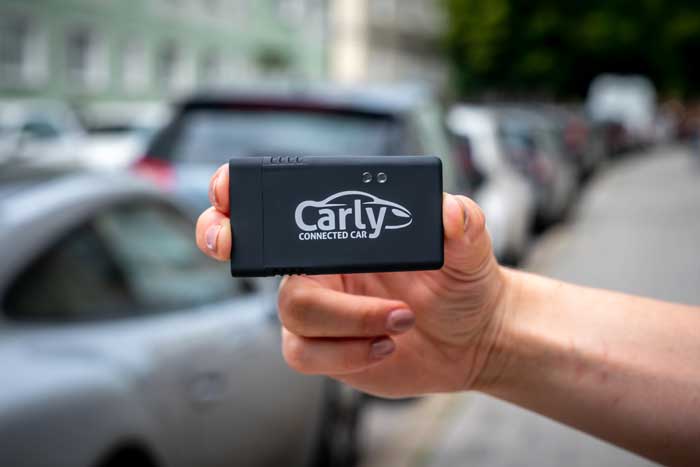 Compared to its rivals, the Carly app is reasonably priced. Here, the cost of the essential hardware, which includes the Bluetooth adapter and the free smartphone app, comes to 59.90 €. This equipment comprises basic engine diagnostics, emissions testing, and real-time data reporting while driving, as detailed in the preceding sections. Additionally, the adapter comes with a warranty and offers free access to customer service, which guarantees to respond to any inquiries within 72 hours.
Additional PRO version licenses must be purchator to use any additional features or usage choices. The cost of this license is invoiced as a yearly subscription, with rates ranging significantly according to the brand of the vehicle. However, you need to budget at least €2per 0.00 year in expenditures. However, it is important to keep in mind that such a license is originally essentially attached to a certain brand of car, and only the features that are accessible for this manufacturer are enabled. It will cost you roughly 60,00 Euros a year to get a license for all brands if you don't want to commit. Additionally, the Carly app's newest function, Smart Mechanic, has an additional fee of €35.99.
For all features, including the added Smart Mechanic function, this amounts to total expenses ranging from €59.90 for the basic version to just under €136.00 for the PRO version, with yearly charges of €76.00 included here.
Conclusion
If you're looking for the best and most affordable automotive technology product in the UK, then Carly should be at your fingertips.