What is the best mobile phone according to your budget? We have tried to give you the best opinion and a platform where you can analyze the different mobile phones in terms of prices, speed, dimensions, etc. We will compare the best and most popular mobile phone brands like Samsung and iPhone as well as the best mobile phone deals.
Mobile Phone brands compared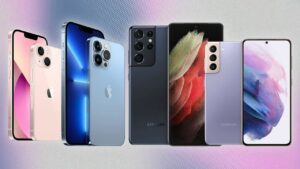 No phone brand is perfect and 100 % recommended. The users can choose on behalf of their preference. Samsung is good with the hardware but it is not satisfactory in terms of user interface and graphical representations.
 If we talk about the iPhone, they are good in graphical representations and user interface but they are not within reach of every user. Oppo is good for selfies and user interface but less effective in terms of quick response.
 

Top 2 mobile phone brands in the world
Galaxy

S21 FE 5G

Galaxy S22

Galaxy S20 FE

iPhone 

13

iPhone

12

iPhone

11

Price

£649.00

£769.00

£479.00

£729.00
£679.00
£549.00

Screen size

6.4 inches, 103.9 cm2 (~89.6% screen-to-body ratio)

6.8 inches, 114.7 cm

2

(~90.2% screen-to-body ratio)

6.5 inches, 102.0 cm

2

(~85.7% screen-to-body ratio)

6.1 inches, 90.2 cm

2

(~86.0% screen-to-body ratio)

6.1 inches, 90.2 cm

2

(~86.0% screen-to-body ratio)

6.1 inches, 90.3 cm

2

(~79.0% screen-to-body ratio)

Screen type

Dynamic AMOLED 2X, 120Hz, HDR10+

Dynamic AMOLED 2X, 120Hz, HDR10+, 1750 nits (peak)

Super AMOLED, 120Hz, HDR10+

Super Retina XDR OLED, HDR10, Dolby Vision, 800 nits (HBM), 1200 nits (peak)

Super Retina XDR OLED

Liquid Retina IPS LCD, 625 nits (typ)

Screen resolution

Dynamic AMOLED 2X, 120Hz, HDR10+

1440 x 3088 pixels (~500 PPI density)

1080 x 2400 pixels, 20:9 ratio (~405 PPI density)

1170 x 2532 pixels, 19.5:9 ratio (~460 PPI density)

1170 x 2532 pixels, 19.5:9 ratio (~460 PPI density)

828 x 1792 pixels, 19.5:9 ratio (~326 PPI density)

Operating system

Android 12, One UI 4

Android 12, One UI 4.1

Android 12, One UI 4.1

iOS 15, upgradable to iOS 15.4.1

iOS 14.1, upgradable to iOS 15.4.1

iOS 13, upgradable to iOS 15.4.1

Battery size

 

Li-Ion 4500 mAh, non-removable

Li-Ion 5000 mAh, non-removable

Li-Ion 4500 mAh, non-removable

Li-Ion 3240 mAh, non-removable (12.41 Wh)

Li-Ion 2815 mAh, non-removable (10.78 Wh)

Li-Ion 3110 mAh, non-removable (11.91 Wh)
Samsung mainly focuses on three features. The first is the camera. A graphical user interface and Fan Edition. Now the galaxy, the S21 FE, uses an updated version of the S21 screen panel. It offers a 6.4-inch Dynamic. Amoled 2x with native models and HDR10+ support.
The hardware specs compared to the previous models remain the same
Both models have a snapdragon 888 or Exynos 2100 chipset – the international model is snapdragon, but Samsung's silicon is limited to Australia.
In terms of the camera, this is the best mobile phone to choose from. If it offers a 6.4-inch Dymanimc Amonled 2 x screen.  The s@1 series hardware specs are the same as the Galaxy models
The stereo speakers and the UD fingerprint scanner also stand out compared to previous versions.
Another distinguishing feature is water resistance. This is the phone with the highest rating in terms of water and dust resistance.  The accessories are great for long-term use. Once you buy the phone, and the charger along with it, you can use for years, and its cables can be used for other electronic purposes, such as the USB-C port and USB-PD support.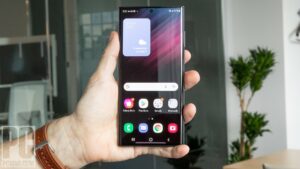 We find in the Galaxy S22 an ultra-fast chip, a Nightogrpahy camera. And a long-lasting battery. And most importantly, a new built-in stylus, an amazing hardware feature.
Similarly, the Galaxy, S22 Ultra is more amazing than other competitors. The camera with a built-in lens and the SLR lens are amazing features.
Galaxy S with a built-in pen is a great feature of the new Galaxy model, if you want to draw some drawing or a new sketch, you will get a new built-in pen under the Galaxy button to help you convert all your handwritten text into a computer font.
The 4nm chip makes your phone more powerful and you'll be able to take photos at night. The game optimisation is also great.
You can choose several colours for the scheme, there are many colours to choose from such as burgundy, green and phantom black, all these stunning colours can make your phone look amazing.
The super fast and long-lasting 5000 mah battery lasts a long time, usually up to one day. The battery charging accessories are great, you can charge your phone in no time. The wireless system can be amazing when you want to connect your wifi or hotspot to your laptop.
The 40-megapixel selfie camera is amazing for taking pictures when you are with your family and want to keep your memories 12-megapixel ultra wide-angle camera and 108 wide-angle camera and other 10mp photomicrophones with 3 optical zoom are the most advanced features that make it more different from others.
Auto crop
Your video or access can be focused on a specific angle and subject, or you can move around but your focus will be on a specific object. This helps you focus on a specific object without losing the quality of the camera image or video at the same time.
The dashboard view is also an amazing feature, you can use the whole camera system and record an image or video from different angles, the front and rear cameras are great… and there are various editing tools to help you make your images more stunning and charming to upload to social media.
Singel take
Singel take is also an amazing segment of the phone, you can simply press the shutter to record up to 20 seconds of action and you can take advantage of the gallery which will save all images automatically and there will be various.
Amazing communication channels far beyond borders
Communicate through different channels, such as Google Dou. You can communicate with your family via conference calls and use the screen to watch videos, it can also be streamed to the big screen where it will be visible to everyone.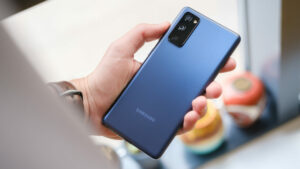 The Galaxy s20 FE is the ultimate gadget for those who want to enjoy photography and gaming all in one place. Hundreds of sales have been made worldwide since it was first launched. Your phone never leaves you, it has to be the best investment in your business and social life. Buying a Galaxy S20 FE is a new achievement in your life. With it, you can enhance your view of life, which means a more intense screen will make your games, chats and video calls more exciting than you think.
A camera with a professional lens helps you capture all the happy moments wherever you are, you can apply hundreds of filters or take pictures without filters as you wish, and there are additional features such as 3x optical zoom.
A larger pixel and improved camera allow you to capture fun moments, and there are even more extras that will take your photography to the next level.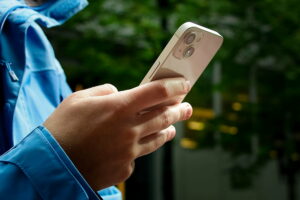 Compared to Samsung or other cameras, the camera is more dynamic and clearer. The iPhone camera has no replacement in all other brands. Also, the display is so well tuned and controlled thanks to the fastest smartphone chip.
Speaking of its camera, which is getting more and more updates with the latest versions. Harvard and compatibility support more soft features for still photography and video recording. This can add variety and enhancements to selfie shots and other video shooting processes.
The iPhone xWEA is best suited for still photography because its autofocus system, redesigned lenses and the ultra-wide-angle camera can focus down to just 2 cents, it can clearly show the smallest of details.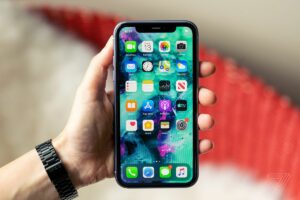 The iPhone is available in different colours: white, yellow-purple and black. Its capacity is 64GB and 128 GB. The display of the iPhone 11 is amazing. It offers 4 rounded corners that are beautifully coupled with a curved design. All these corners are beautiful standard rectangles. The iPhone 11 has a 6-core processor with 2 performance and 4 efficient cores. Speaking of cameras, the dual 12MP wide-angle and ultra-wide-angle cameras with 2x optical zoom and up to 5x digital zoom are amazing.
The optical image stabilisation wide-angle and six-element lens and five-element ultra-wide-angle and panoramic 63MP lens are amazing. It can record 4K video.You can also enable the face id feature if you want to secure your mobile phone from unauthorised users. You can send and receive money in messages using Apple Cash using FaceID I stores.
You can also enjoy FadeTime video calls via cellular or wifi. As far as the operating system is concerned, isos is the strongest and most secure.
Mobile operating systems are powerful features that have been designed to protect our privacy policy.
Accessibility in iPhone 11 is easy, you are readily provided with the best accessibility features, including hearing and cognitive impairment and vision support, as well as many other controls that will make your phone a more business-friendly device.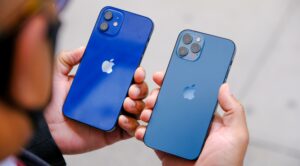 The iPhone 12 is the best deal available. The price has been reduced to £679.00. Even the iPhone 13 offers more speed, better imaging and camera results, and longer battery life. Overall, the iPhone is the best mobile phone among other brands.
You can get an attractive design and a 5G connection that will support better performance, and a small amount of base memory, and you don't have to worry about a powerful zoom or quick display updates from other apps. A similar version of the phone, the iPhone 12 mini is the best choice if you're on a small budget but still want to buy the best mobile phone.
Mobilephonesdirect provides a range of mobile phones from various brands. We recommend buying your devices from a leading UK shop that provides all the best deals in one place. They also have a dedicated and award-winning team who provides amazing customer service.