The black turtleneck, aka "banlon" or "badlon", has become an integral part of the modern man's wardrobe. A turtleneck is a tightly knit jumper, usually with a high collar or, less frequently, without one. This thing for many decades is considered basic and does not go out of fashion trends. The black turtleneck can complement the business image, it can be elegantly combined with everyday clothes. Depending on what elements of your wardrobe you want to combine the turtleneck, its message will be different: it can look like a stylish retro piece or attract attention, creating an ultra-modern, almost futuristic image. This basic piece can be worn at any age: it doesn't age teenagers or look weird on mature men. Choosing the right black turtleneck sweater not only adds lightness and elegance to the look, but also provides maximum comfort: it doesn't restrict movement and serves as an additional layer, which during the cold season keeps you warm.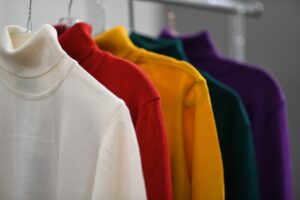 How the turtleneck appeared
The name of this item comes from its original professional purpose: at the end of the 19th century it was used by divers. They wore the turtleneck under a swimming costume and its neckline protected the skin at the neck from contact with cold metal. They were then worn by other professions, such as pilots, sailors and car drivers, who tried to protect their necks against the wind. It was the test pilot, Alberto Santos-Dumont, who first started wearing the turtleneck not only on sorties, but also on social events. He wore this piece of clothing under the jacket, what caused a great delight among the ladies. But still popular and fashionable turtleneck made French fashion designer Pierre Cardin. In 1959 he showed his new collection of clothes, for which, incidentally, lost his membership in the Syndicate of High Fashion. In his minimalist collection turtlenecks were the key element. In the sixties of the twentieth century it became an important detail of the male image and was seen by the society as an indispensable attribute of the creative professions and intellectuals. Turtlenecks were worn by many artists, writers, musicians and film stars. Turtlenecks became the benchmark for flawless style and an indispensable item of men's wardrobe thanks to the band "Beatles". The legendary band wore them to many of their performances, which finally proved the status and versatility of this piece of clothing. The turtleneck was also loved by Steve Jobs, Sean Connery, Marcello Mastroianni and Yves Montand.
In order to choose the right turtleneck that is not only stylish but also practical, suitable in style and size and hides figure flaws, you should evaluate the item when buying it according to certain criteria.
The composition of the fabric
The first thing to consider when choosing a turtleneck is the season you intend to wear it in. The turtleneck is versatile: there are models for both winter and summer. Of course, they will differ in style and material.
Before you buy a turtleneck, you need to figure out which model will fit best into your wardrobe. For example, if you're going to wear a jogging turtleneck as thermal underwear, you won't be able to wear it under a jacket at work, and vice versa.
Many men like to choose clothes a size larger so that they fit more loosely. But in the case of a turtleneck sweater, don't do that, because such a desire for comfort will play a cruel trick on the practicality of the garment. If the turtleneck is too loose and long, it will be useless: outside it will be blown around by the wind, letting in cold air.
The range of turtlenecks is varied and you can choose from a variety of styles and shades. The most successful turtleneck colours are beige, grey, white and black, as these colours are considered basic. Bright turtlenecks can be chosen to create a casual image for an informal event. But still the most universal was and remains the black turtleneck. This colour is considered a classic colour and allows you to create the most elegant and stylish combinations.
What to wear with a black turtleneck
Turtleneck as an independent item of clothing
Black turtleneck with a leather jacket
Turtleneck with a denim jacket
Black Turtleneck with Blazer and Jeans
Turtleneck with a business suit
Black Turtleneck Turtleneck with Cardigan