How much does a good gaming computer cost? The cost can be simply cosmic. But we offer a couple of component-based builds that are the best value for money today.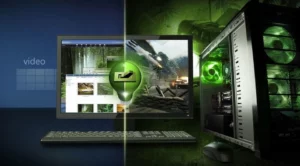 It would seem that not so long ago we couldn't imagine a gaming PC without a discrete graphics card. But emergence of AMD hybrid processors with integrated Vega graphics and sharp price increase of graphics cards unwittingly made us reconsider our attitude to gaming PC. And in today's article there are actually two configurations. One of them is designed for users with a very limited budget, and the other is for those who have an opportunity to overpay a little, but make their PC much faster.
Despite the noticeable price difference, both configurations are quite viable and can handle almost any AAA project, although the quality of the graphics will still be noticeably different.
Choosing a CPU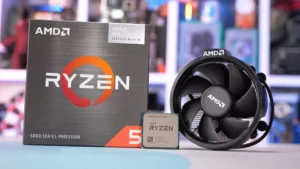 Intel processors have always been strong in their single threaded performance, while AMD excelled in multi-threaded operations. And that's why many gamers often opted for Intel, while professionals preferred to use AMD processors. But lately that choice has ceased to be so obvious.
Now we are rather guided by the possibility to use integrated or discrete graphics. If you have the option of buying a graphics card, we recommend looking into the Intel Core i5-11400F – in our opinion, the best mid-range gaming processor.
If a graphics card is too expensive, the AMD Ryzen 5 5600G comes to the rescue. This processor costs a few more than Core i5-11400F, but it is equipped with fast enough integrated graphics that can pull even extremely "heavy" AAA-titles. It also has an overclocking feature that the Core i5-11400F lacks.
The choice of motherboard depends directly on which processor you decide to use. If you've settled on an Intel Core i5-11400F, we recommend the MSI MPG Z490 GAMING CARBON WIFI Intel Z490 ATX DDR4 motherboard.
The Intel Core i5-11400F is not overclockable, so it makes absolutely no sense to overpay for this option when buying a motherboard.
Choosing RAM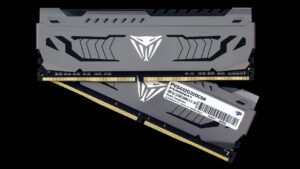 Patriot Memory's Viper Steel memory modules are designed with true performance in mind. Built for the latest Intel® and AMD™ platforms, the Viper Steel series provides the best performance and stability for the most demanding computer environments. The Viper Steel utilizes a custom designed high performance aluminum heat shield for a clean sleek steel-look inside any motherboard. The Viper Steel is made to ensure rock solid performance even when using the most taxing applications. Built from the highest quality Build of Materials, Patriot's Viper Steel Series memory modules are hand tested and validated for system compatibility.
When purchasing any RAM, always try to opt for RAM kits that are guaranteed to operate in 2-channel mode. This is especially important when it comes to integrated graphics. In our case, we recommend using RAM Patriot Viper Steel 16GB (2x8GB) 4400MHz DDR4 Memory Kit.
Choosing a PC case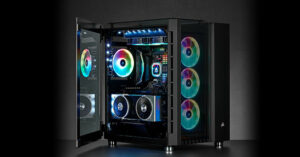 Computer enclosures have long ceased to be boring metal boxes for storing components. It is now possible to find multifunctional solutions with interesting design at an affordable price. One of them is the Corsair Crystal Series 680X RGB LED Tempered Glass ATX Smart Cube Gaming Case, which has received a lot of positive feedback.
The CORSAIR Crystal Series 680X RGB is a dual-chamber tempered glass ATX smart case that keeps your system running cool with room for up to eight fans and four radiators, including one 360mm. Enjoy superb airflow and brilliant RGB lighting from three LL120 RGB fans, controlled by an included CORSAIR Lighting Node PRO and powered by iCUE software. Show off a stunning view of your PC's components with three tempered glass panels on the front, roof, and hinged side door, while an optional vertical GPU mount allows you to put your graphics card center stage. Make your next custom build incredibly easy and undeniably cool with the 680X RGB.
As a system SSD, we recommend the fairly inexpensive but very efficient Silicon Power P34A80 256GB drive, which offers impressive sequential access speeds of up to 3,400MB/s. This is more than enough to have your computer booting up in seconds and your operating system flying.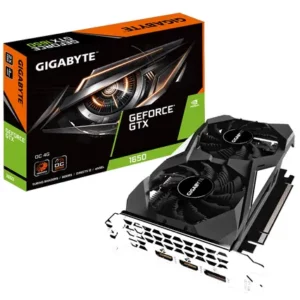 The graphics card has become the most painful choice when building a gaming computer. The popularity of mining has led to a sharp rise in the cost of graphics cards, and although the market has stabilised somewhat recently, their cost is still very far from adequate.
That's why one of our builds includes the option of using an APU with reasonably fast integrated graphics. If you've opted for the Intel Core i5-11400F, however, you can't do without a graphics card. There are simply no raytraced graphics cards in the price range we've chosen, and the most adequate of the available options looks to be the Gigabyte GeForce GTX 1650 OC 4GB GDDR5.
What next? Choose your monitor
With a limited budget, many people when building a gaming PC are first concerned with selecting a graphics card, CPU, and other computer components. And based on their cash balances, they choose a monitor. I think this approach is obviously wrong because you are going to look at the monitor all the time you are using your PC. It affects the perception of images and graphics, games in general, not to mention the fact that properly selected monitor can reduce eye strain and, finally, increase the efficiency of your game. So don't skimp here.
Diagonal and screen resolution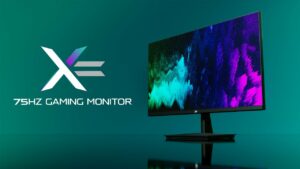 Of course, one of the first characteristics to look out for is the screen diagonal of the monitor. For a gaming PC, in my opinion, you should stay in the 21-27 inch range. Small monitors have a poor visibility and many are already used to them, but too big screen will often make you twist your neck a bit, which is also uncomfortable. A screen with a 24-inch diagonal screen size may be an optimal solution. It should also be noted that large screens with characteristics for modern gaming tasks are not cheap to say the least.
As far as screen resolution is concerned, it is worth beginning to consider monitor models with a resolution of at least Full HD 1920×1080. With this resolution you can find a good monitor model for all characteristics and price, in the diagonal range of 21-27 inches. If your choice falls on the model with a screen diagonal more than 27 inches, you should definitely take a monitor with at least Quad HD 2560×1440 resolution. Modern video cards will be able to process a picture in this resolution if needed. We also draw your attention to the fact that if you take a screen with low resolution and a large diagonal, it will greatly affect the quality of the final picture, it will be, as it were, smeared. This is due to the lack of pixel packing density, conventionally per unit screen area.
Conclusion
We hope this guide has helped you understand the issue a little and has given you some direction when choosing your PC components and gaming monitors. For some people there will seem to be very little detailed information here, but we have tried to avoid a large and tedious publication for most people. In our opinion, the article is only meant to guide your choice and deepen your knowledge on the subject a bit.