The first spring breeze makes you want to go outside and sit in the yard. In March and April, people in their houses already begin to improve their courtyards. And by May, backyard owners are trying to clean up their bored garden as soon as possible.
If you, too, want to furnish your garden for the spring and summer season, we suggest you use our tips on how to choose garden furniture!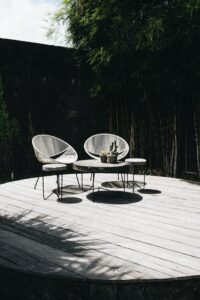 The beautiful pictures in the garden furniture catalogue make you want to buy them all at once. However, if you like the look of a garden bench, swing or table, don't rush to buy it straight away. To make your purchase as useful and enjoyable as possible, we suggest that you start with a checklist that will help you decide whether or not this is the right one for you.
The questions you need to ask yourself are:
Will this furniture be stable where you plan to use it?
How much weight can it support?
Is it resistant to sudden changes in temperature?
How does it stand up to moisture, can it stand in the rain?
Will it be easy to put away in winter?
Does it need extra care?
These issues are practical and it's a good idea to consider them beforehand. Consider your needs: where your garden furniture will stand, how often you will be using it, how many people are expected to use it.
Once you have decided on these questions, we can talk about materials.
What materials should I choose for my garden furniture?
Outdoor furniture is made from a variety of materials. The most common are:
1. Plastic
If you come to the cottage a couple of times a month or if you rarely get to spend time in the yard, it is convenient to buy plastic furniture. What's more, this option can help you save a lot of money – it's the cheapest option for your garden.
But keep in mind that plastic tables and chairs are not very durable and relatively weak to withstand regular use. And because of the lightness of their design, their stability is sometimes not enough in an open space or on a not very level ground.
On the plus side, plastic furniture is easy to bring into the house or garage, easy to clean and requires no maintenance.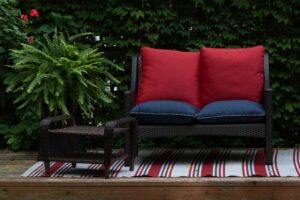 The stylish appearance, stability, practicality, reliability and ease of maintenance of the synthetic material are good arguments for choosing this type of outdoor furniture.
If you are looking for a sturdier and stronger option, the choice is between wood and metal.
3. Wood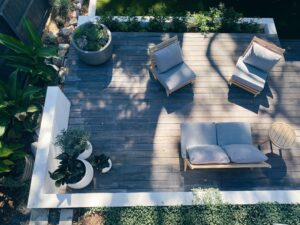 You can't go wrong if you choose solid wood. Wooden garden furniture is versatile enough to blend in with even a very ornate exterior.
Wooden benches, for example, usually blend seamlessly into the natural garden landscape. They are comfortable, practical and moisture-resistant because they are coated with a special lacquer.
Often the table and benches are made stationary (fixed in the ground). In this case you cannot put them away for the winter, but you can cover them with polythene covers for preservation – good quality solid wood can withstand such overwintering.
4. Metal
If you prefer metal furniture, you can be commended for your fine aesthetic taste. The wrought iron elements on the handles and supports will make the garden look more ennobled and cosy.
Metal benches, tables and swings will be sturdy, durable and will last for decades. Don't skimp – choose products coated with a good varnish or rust-free paint. And don't forget that the metal elements will need a touch-up from time to time.
Now all that remains is to decide on the design! Here, it all depends on both your taste and the design of your garden or yard already in place. Click here to find the best outdoor solutions, fine design and affordable prices. Delight yourself and your loved ones and make sure you have a great summertime in the backyard!