A coffee table is an indispensable item in almost every home. To match it with the right interior, you need to familiarise yourself with the varieties and selection criteria. Often the coffee table is specifically matched to the sofa in the room. This is the best solution for those who like to read a lot or prefer to have a friendly conversation over a cup of tea.
In any case, the table should fit perfectly with the sofa, be shaped to suit the space of the house and look attractive.
Varieties of coffee tables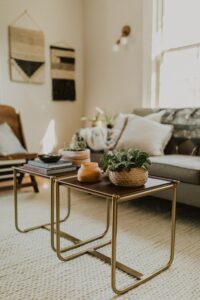 In order to ensure that the table is a joy to use for many years and is popular with residents and guests at home, the selection process should be approached carefully and thoughtfully. There are the following table types:
Extendable coffee table. suitable for small rooms, and also if you like to gather with friends on the sofa for a cup of tea or a glass of wine, this is the best option, as you can easily change the size. These models are easy to fold up and down so you can not only put food on them but also sit down to work.
Modular is a good option for a small living room. The product consists of several parts and can be assembled into a compact figure. Models are suitable for non-standard interiors.
Mini dining table. At first glance, you would not even say it is a coffee table, it gives the impression of an ordinary kitchen table, only the size is smaller (low legs, small table top in diameter). These tables have 3 or 4 legs and are best for a living room in the kitchen or if you're used to eating in the living room. There are cleverly designed models with edging.
Side tables. These tables have a small tabletop and shelf underneath and come in round and square shapes. They are placed next to sofas and used for newspapers/magazines, books and other small items. This option is also often used in beauty salons or hairdressing salons, placed in the waiting area next to sofas.
Classic. This coffee table option is suitable for those who like to read newspapers and books. They have built-in shelves to store newspapers, magazines and other printed matter.
You can only get an idea of what this or that model will look like once you have at least roughly determined the size of the room and the purpose of the coffee table.
Criteria for choosing a coffee table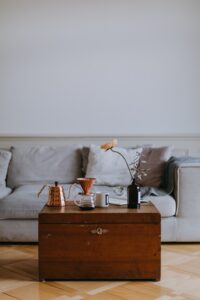 The criteria for choosing a coffee table for a room should be defined. First of all, the product must be suitable in form, style, colour and material.
When buying a coffee table, consider the function it will fulfil:
a place to store newspapers, books, small items;
as a supplement to the furniture in the room;
as a place for vases, table clocks and other accessories;
as a place for eating;
Such furniture will easily unload the ambience, making it relaxing and at the same time harmonious. In addition, any of the listed types will be comfortable to work at.
Matching the style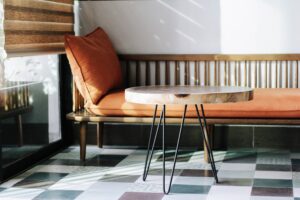 A coffee table should fit in perfectly with the room in which it stands. Designers place emphasis on:
classic interiors – a chic table made of natural wood, preferably decorated with inlay, painting;
minimalist rooms – models in subdued colours made of metal, glass or wood;
Provence style – vintage décor which gives an air of antiquity and antiquity but at the same time simplicity and pretentiousness;
art nouveau – sophisticated ornaments and sophisticated decoration made of expensive materials;
eco-style – simple and even plain tables made of natural materials;
avant-garde rooms – there should be brightly coloured objects made of metal or plastic;
A specific type of coffee table should be chosen for each room and furniture arrangement. If you feel like a designer and have no financial constraints, try combining different materials, styles and sizes.
Choosing the shape
There are three basic shapes of sofas – straight, corner and individual. As coffee tables are installed mainly next to sofas, the choice should be based on this type of furniture.
The straight model of sofa fits any form of a table, and the main aspect is that the tabletop should not be higher than the seat of the sofa. If you do purchase this model, you should keep a distance of 45-50 cm when installing it.
For corner sofas, straight, oval or square pieces will do. A round or oval table will look good if you put it to the side of the sofa, not opposite, but in this case, the tabletop should be higher than the armrests. When choosing a straight coffee table keep in mind the number of seats and the width of the product, approximately 60 cm per seat.
The choice of a table for non-standard models should be based on personal preferences and an idea of how they will fit together.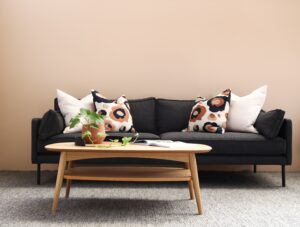 Modern features for choosing a coffee table
Nothing stands still, including the furniture industry, so when making your choice, you need to think about what's on-trend. What are the rules of modern fashion?
Eco-friendliness. This message is becoming more and more popular every day, and even the furniture industry has not ignored it. People are now buying everything that is made from natural, natural materials, which is why rattan tables and natural wood products without painting are in demand.
Experimenting with colour. Contemporary styles are unpredictable, and many designers encourage us to abandon preconceptions and create something new, to combine the impossible. Quite often, coffee tables with patterns, paintings and other novelties are to be found.
Individuality. You can independently model a coffee table, come up with a principle of work, and if it is very difficult, come up with a non-standard design.
Today, anything that looks out of the box is in high demand. The important task is to find the best solution and buy a decent version of the product.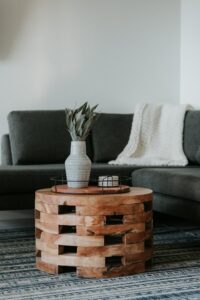 To choose the right coffee table, the following tips should be followed:
Decide on the location of the coffee table and take measurements, choose a table style and consider whether a particular model will suit the room.
The tabletop should not be lower than the seat of the sofa.
Don't forget to look at the table legs as metal or plastic ones might scratch your parquet or tiles, so do consider the floor covering.
The interior of the room should be a priority, so the style and colour of the coffee table should be chosen based on the living room interior.
If you have a large room, you can buy a large wooden or metal coffee table, and for small rooms, the best option would be an extendable coffee table.
So, to buy a coffee table for a specific sofa is not difficult, you just need to decide on the type, colour, shape, style. In the online shop Furniture in Fashion you can find a suitable version of the coffee table at an affordable price.