It seems that in the presence of many options for modern audio equipment: powerful music centers, home theaters, and all kinds of speakers, buying a vinyl player is not the most rational choice. But such an acquisition really makes sense.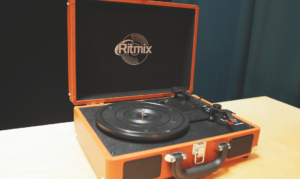 Enjoy analog sound
When it comes to music, sound quality comes to the fore. In this matter, vinyl players have no competitors in the modern world, simply because, against the background of widespread digitalization, they are the only ones retaining the traditional analog reproduction of melodies. You not only hear this kind of sound but literally feel it as soon as the record starts spinning. This is a classic that became popular at the end of the 20th century and continues to delight people today. When vinyl plays, you feel like you've missed that sound, even if you've never heard it before. This makes sense: the turntable evokes real emotions in the listener, and for the sake of this it is already worth thinking about buying. In order not to be disappointed in the end, the main thing is to choose a decent model. Ritmix has a suitable one – the LP-120B. Two speakers with a nominal power of 6W deliver absolutely clear sound without interference. It has analog audio input and output so you can enjoy your favorite songs in impeccable quality. Thanks to the built-in phono stage, the turntable is synchronized with the amplifier for a more powerful sound without losing its characteristics. You can also select the rotational speed of the record: from 33 to 78 rpm to experiment with playback and perhaps rediscover familiar songs. P.S. You have to be careful because the analog sound of vinyl players gradually develops immunity to low-quality digital music, which you simply cannot listen to later. You need to be prepared for this.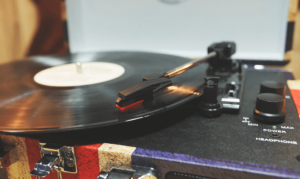 Variety of styles
A vinyl record player is not only about quality sound but also about aesthetics. The vintage harmoniously fits into modern life and complements it. With the help of such a device, it will be possible to diversify any interior, since the range of colors, as well as the variability of shapes and sizes, will allow everyone to find a model that matches tastes and preferences. So, Ritmix has a model with a color in the form of a British flag. On such a player it will be very symbolic to listen to the music of The Beatles or Queen: the atmosphere will turn out to be atmospheric. But we are talking about the lifestyle in general, and not just about the interior, because thanks to the vinyl player, you will be able to stand out from the background of those who buy modern audio systems and surprise your guests at a home party by launching a record with everyone's favorite songs. At the same time, models in the form of small suitcases will look great and attract attention. Vinyl captivates with its retro spirit, which seamlessly fits into the current realities. Perhaps, when listening, someone will even feel that they are between two times – it's worth a try.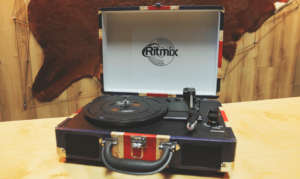 Ease of use and versatility
Many modern turntables are not massive setups, but very compact units with good portability. For example, the Ritmix LP-160B model weighs very little, it is convenient to take it with you outdoors or even on a trip during your vacation. By the way, the Blue color will perfectly match the seaside, so you can arrange a real resort romance for your girlfriend or wife. Today, most players support Bluetooth, so they can be used instead of a portable speaker: an original solution with decent sound, which will save money on the purchase of various devices. Also, if necessary, it will turn out to connect AUX – there are a lot of use cases. It turns out that a vinyl player is convenient both in terms of transportation and mobility and in terms of playing music from various media. In addition, it can help save money, which is another argument in favor of such an acquisition.
New hobby
When you buy a turntable, you join the people who are chasing records around the world in search of rare and unique pieces. Of course, this stage does not come immediately, but still, you potentially have a new hobby in the form of collecting vinyl. By the way, this way you will make it easier for your friends and relatives, who will know for sure what gift for any occasion will not leave you indifferent. Finding the record you want is a fun process, and it's not a pity to spend time on – it's worth starting, and the enthusiasm will only grow over time. Perhaps, thanks to the turntable, you will become a real music lover, even if you have never considered yourself a big lover of the most diverse music. And when you put together a decent collection, in the evenings you will enjoy the moment when the needle starts to slide on the plate: relaxation, comfort, and the most pleasant atmosphere are guaranteed. So there is definitely a point in buying a turntable.