And is it possible to replace them with a shower after a workout?
Wet wipes have become an integral part of everyday life for many. Convenient for their portability, they differ not only in smells for every taste, but also in functionality. However, antibacterials are now the most popular. In an attempt to protect themselves from infection, people massively use disinfectants. But do wet wipes provide reliable protection? And can they replace the shower after training?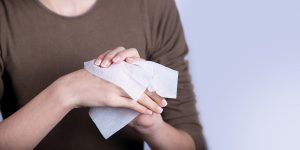 Can I use wipes and not wash my hands?
Regular soap kills up to 72% of bacteria, the expert notes. You don't need to be a scientist to understand that people who wash their hands regularly get sick several times less often. Despite this, modern life on the run does not always provide such an opportunity. Then napkins come to the rescue, easily fitting into any bag. But will they be just as effective against germs?
Do wet wipes protect against viruses?
Of course, antibacterial wipes cannot protect against the virus, but this does not mean that we must completely abandon them. Napkins will play a role anyway. Their main task is to remove dirt on hands and surfaces. Do not expect a strong antibacterial and antiseptic effect from them.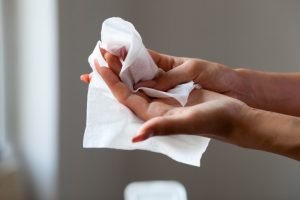 Can wet wipes cause allergies?
Napkins are often used on delicate areas: for removing makeup, taking care of children and intimate hygiene. In such matters, the maximum level of reliability and confidence in the absence of harmful components in the composition is always required. Some experts note the increasing frequency of complaints of allergic reactions caused by the use of this hygiene product.
Like any cosmetic product, regardless of whether it is a cream or a lotion. There may be a component in their content that you do not transfer. Then allergic reactions may appear: redness or itching. If wet wipes are certified (have a certificate of conformity and quality), they contain only those components that are harmless to the skin. But you still need to take into account individual intolerance.
Can wet wipes carry infection?
Several years ago, scientists from Cardiff University published a study according to which napkins not only do not destroy bacteria, but also increase their number.
I'm not sure they are spreading the infection. The only caveat is the expiration date. If the wipes are out of date, the active ingredients – preservatives that prevent bacteria from growing – stop working. Only then can they become a source of multiplication of infections.
Can wet wipes replace shower after workouts?
Despite the contradictory characteristics, you should not completely abandon the use of napkins. You can only moderately limit their use.
This is a definite help, the ability to quickly clean surfaces. But do not confuse their effect with complete disinfection. In any case, if there is no other possibility, wet wipes are an indispensable thing that must be present.
You cannot completely replace the shower with wipes after a workout. But they can be used as a temporary measure if you need to save time. Wet wipes can help you freshen up after class, but you still need to take a shower when you get home.
How to choose wet wipes?
When choosing napkins, you should pay attention to their composition and function. If the composition contains, for exampl
e, herbs, they are unlikely to have a healing effect. Most likely, these are low concentrations of components that are used exclusively as a marketing ploy. The same goes for fragrances. If you use makeup remover wipes, they will have little antibacterial effect. Also, the composition of the wipes may contain various acids that are recommended for the treatment of certain skin problems. They should be used only on the recommendation of a cosmetologist or dermatologist.