Design thinking doesn't stand still: kitchen gadgets designed to save time are able to surprise you with their originality and break up the daily grind. Thanks to modern developments, ordinary things have become truly surprising. We will tell you about the most unusual and useful kitchen gadgets designed to make cooking easier and save precious minutes.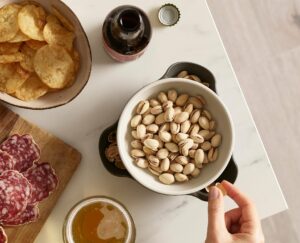 Watching your favourite shows in the kitchen or room has taken comfort to a new level. You can peel seeds, nuts or get rid of pips by dropping the shells into the lower bowl.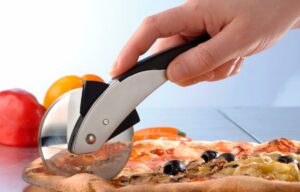 Thin dough cannot be cut with a regular kitchen knife. This useful gadget allows you to quickly cut pizza into perfectly flat pieces without crumbs or scratches on the base. The scissors are equipped with a special spatula to keep your hands clean.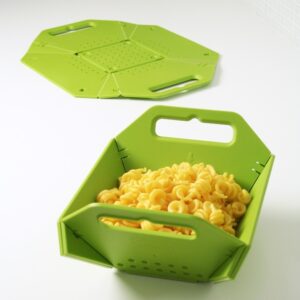 A special foldable colander takes up little space. It can be stored anywhere.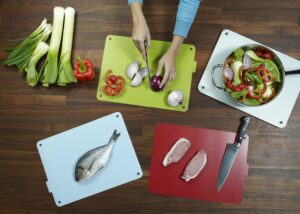 The original set consists of a glass chopping board and three colourful chopping mats that are stapled together for storage. The multi-set can thus be used to prepare an entire menu, as one board is not enough to hold all the ingredients. Use the red one for meat, the blue one for fish and seafood, the green one for fruit and vegetables and the glass one for hot pots.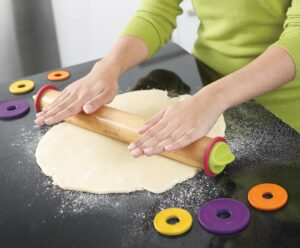 Do you find it difficult to roll out the dough to the thickness specified in the recipe? This rolling pin has 4 tip heights of 2, 4, 6 and 10 mm, which you can change to adjust the thickness of the loaf.
When choosing new kitchen gadgets, don't forget about quality. Many of the products in today's selection, as well as many other interesting items, can be found on the website JosephJoseph.