Ponds can be a fascinating natural thing you can have at home. Having a greener home with a small pond inside gives life to the place; it naturally becomes ten times more attractive. However, it is not a piece of cake to build a pond or a pond garden. You will have to keep in mind many important considerations. Today we have brought some major tips you are bound to consider before setting up a pond in your garden or backyard.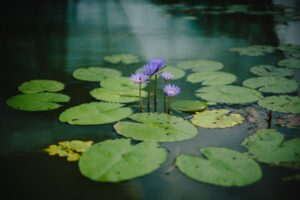 Size
Be careful to understand how the pond will be used before digging a hole so you do not build less than an ideal pond. Pond dimensions are determined largely by your artistic tastes, space availability, and whether there are enough fish in your pond.
Location
It is important to consider where to place your pond to keep it healthy and sustainable. If you plan to place your pond in an accessible location, ensure the soil is suitable for its maintenance. You might want to position your pond at a distance from the nearest tree, at least five metres away; this way, you won't have to clean it of fallen leaves constantly. For algae growth to be controlled, the spot should receive at least five hours of sunlight daily.
Depth
Ideally, you should be able to choose the depth of your pond randomly, but selecting the depth is more difficult. It is harder to manage shallower ponds. Due to their sensitivity to external factors, they experience huge fluctuations in their conditions. However, if your pond will only function as a water feature, you do not need a deeper pond if you stock it with fish or aquatic plants. If fish are planted in ponds, they should be deep enough to protect them from predators and the elements. Make sure you research before starting to build a fish house if you intend to keep a specific type of fish. The water temperature is generally not a concern for fish less than 600mm deep, but certain species have special needs. It is also important to decide whether you want your pond to have a uniform depth or not. Form and function should combine to make this decision. 
The installation of a fence or additional safety precautions may be required for ponds deeper than a certain level. Verify local laws before installing a fence.
Permit
Getting permits, a property line setback, and fence requirements from your local building department is important before starting any construction. Consult your homeowner's insurance provider to determine how much liability coverage you must-have for your pond.
Type of pond
Moreover, as well as varying in type, ponds differ in their design and application. It is crucial to determine the type of building you plan to build before you begin laying the foundations. Aquatic plants are mainly used to maintain a healthy water garden, which helps filtration.
Type of Fish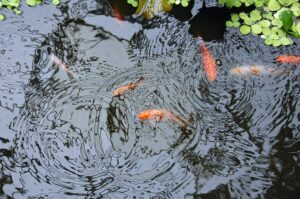 Your local climate will determine the type of fish you should keep in your pond. Make sure you purchase fish suited to your environment, so pick out those that require similar ecosystems and habitats.
A similar level of care should be given to the fish in your pond as those in an aquarium. Select the appropriate fish for your climate, pond size, and individual needs. Make sure the species are compatible with one another.
Plants 
In addition to cleaning the water, plants in your fish pond provide oxygen. Keep your fish pond's plants in check, so they don't obstruct natural waterways. Keep in mind that weeds are plentiful, so be cautious.
A neglected pond can become overrun with invasive plants, thus reducing the space for your fish. To keep your pond vegetation under control, you should be prepared to tend to it regularly.
Garden fish ponds look gorgeous with water lilies, but they can be costly to purchase. In your pond, you may not be able to plant them easily because they need soil to grow. Additionally, water lettuce and hyacinths are great plants to add to a pond. 
Getting the Tools
Having the necessary tools and equipment is the most crucial part. Without it, you cannot even think of initiating the process. All the pond building depends on the availability of tools. Following are some important equipment:
Skimmer

Pond liner

Bricks or heavy rocks

Pump

Filter

Tubing, pipes and fittings

Clarifiers
And many more! But the question here is, how can you get the right equipment? Where can you get them? Will they be reliable? It depends on where you shop. If you are buying from any online store, it could be risky to get the right and trustworthy seller. If you have bad luck, you may get scammed by people on the internet. However, we have a recommendation for you. You may consider buying from Pondkeeper.co.uk. They are the best pond products seller in the UK. They have everything from pond liners to decorations and accessories in one place. You can rely on them. They can offer you free expert advice on pond building, water gardens, and pond maintenance so that you never buy the wrong equipment. All leading industry manufacturers are available here, including Oase, Hozelock, Laguna, Fishmate, Blagdon, pondXpert and many more. Therefore, I recommend them.
Bottom Line
After deciding what kind of pond you want and finding the best spot for it, it's finally time to build. Let's begin by drawing the shape of your pond. Use a vertical strip to remove around the pond, or you can use a spray can to trace around a chalked-on pond. You can use a garden hose or rope to shape the outline using a flexible liner. But you must carefully consider important considerations; otherwise, your process will not be completed. Furthermore, make sure to get the best equipment from pondkeeper.co.uk.