You have just jumped into the cooking field or started preparing meals for your family and you are sitting with a piece of paper thinking of what tools and equipment to order, and biting nails in frustration. This is because you have been obsessed by the advertisements on the TV channels, or other google ads where companies are encouraging the customer to buy their products- all this is appealing sometimes because celebrities or other favorite chefs are representing it. What do you think? All these choices are going to make your life easy? Well, in my humble opinion. Not at all " It is very difficult to choose between the most valuable and useless products"
After years of experience in cookery matter, we are totally aware of the gadgets that are more useful and that are totally useless.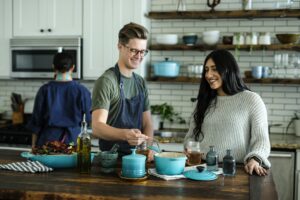 We have formed a list of cool and more satisfying gadgets for your kitchen that is no less than a blessing for you.
If you have decided to buy all the necessary tools for your kitchen, or just feel dissatisfied with your already available list of tools, you need to check the list of tools that are more demanding and can help you to work efficiently in the kitchen.
The checklist of commonly used Kitchen tools you can visit at https://www.josephjoseph.com/
And Checklist is here.
After visiting this link, you can check all the products with their description. All these cool gadgets are budget-friendly. All these tools are the best alternative for your money.
Trending list of Preparation Tools and Essentials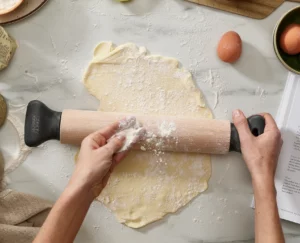 The Unique roll pin is the most important tool used in the Kitchen. Its handle is perfectly lifted so that your wrist and knuckles do not face friction or be hit by the kitchen worktop.
Its larger beech rolling surface is 30 cm. There involve some precautions along with it. Do not dip in the water for a long time. After washing with hands, dry it with a finer cloth.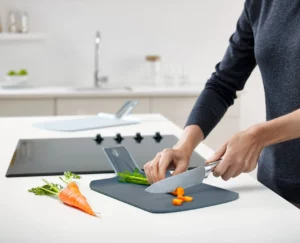 Every dish preparation starts with cutting, slicing, or dicing. So, there is a great role of cutting board.  And it is not possible to cut the onion and apple with the same cutting board. So they offer a set of 4 boards to serve different purposes. Folio Tim is the non-slippery surface cutting board that makes the cutting more enjoyable. these textured surfaces are knife friendly. A stainless steel slim box grips them together and you can easily select the colorful cutting board according to your choice. The case has empty spaces for both sides to let the air circle around. It is quite easy to wash them. 
Dimensions (Regular): H22 x W31.8 x D7.5cm (H8¾ x W12½ x D3 inches)
Weight 1.8 kilogram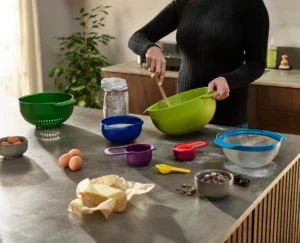 The space-saving small kitchen set is a handy and commonly used tool for the kitchen. All the cups, smaller to bigger, are fixed inside the bigger one. It is lightweight and easy to carry. All this helps you to make food preparation faster and more efficient.
The list of food preparation sets includes:
0.5 L mixing bowl and up to five cups for food measurement, 4.5 L mixing bowl and 3L colander,

 

and 1.65L sieve.
All sets are able to nest together to save kitchen space.
Large bowls are easily adjustable with double handles aside, with no chance to slip.
Small bowls are the best tool for food measurements.
The 0.5L bowl includes the metric and imperial measurements.

 

Super important stainless steel mesh sieve.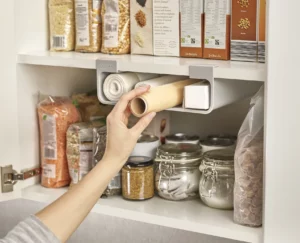 Cupboard Store ™  is the best tool to make use of the best available space This is easy to install with shelves and it will hold all sorts of paper and thin objects like baking foil and bin liners. it is easy to clean and wash. just use the damp cloth and clean it thoroughly. Keep in mind that it would be only suitable for where there is space available more than 26 cm wide. 
Dimensions: H9 x W26.3 x D22.1cm (H3½ x W10½ x D8¾ inches)
We eat and leave some food to spoil. children, especially toddlers do it, and that food goes to the wastebasket. But wait, is it a good idea to through the food into an open wastebasket to decompose and make the environment smelly? Well, a fully ventilated waste caddy helps you to cover up unpleasant odors from rusting food. The ventilated coverage will help you to minimize the sticking smell and dampness inside. The odor filter inside the box is replaceable. polypropylene body is easily cleanable ad its steel carry handle will also help you lift. Decide to wash? wipe it with the damp cloth and then dry it with the soft cloth. usage of abrasive or strong chemical cleaners will spoil the surface. 
Dimensions: H16.1 x W23.5 x D19.7cm (H6½ x W9¼ x D7¾ inches)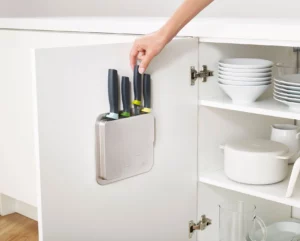 DoorStore™ Knives 4-piece Kitchen Knives Set with slimline storage will help the knife to be safe inside of the steel box. The slimline storage box is the best choice to keep the knives in a standing position. It would save the children's soft hands from touch. Its blades are made of nonstick silicone coating 
All set includes:
3½" paring knife, 4½" serrated knife, 5″ santoku knife, and 6″ chef's knife
Dimensions: H2 x W31 x D22cm (H¾ x W12¼ x D8¾ inches)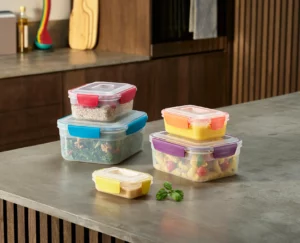 We all have to save food for lunch or evening meals. Try the best  Swap container chaos that comes with the fiver piece food storage set. That is all leakage proof and the light lid will keep your liquids or drinks safe and secure from falling inside the refrigerator. and when carrying them anywhere, they are fixed inside one larger box. 
Details and specification
Leakage proof and lightweight, no let of air inside.
Can be used on the top rack of the freezer and microwave.
Space-saving and nesting design.
Include lid and containers.
Can be used in the microwave but only for reheating.
 Dimensions (5-piece): H24.5 x W16.3 x D20cm (H9¾ x W6½ x D8 inches)