A bit of history
Paris Fashion Week, along with the three other major couture events in the world – London Fashion Week, New York Fashion Week and Milan Fashion Week – is a guide for fashionistas around the world. For seven days in spring and autumn, the French capital sets the trend for the coming season, buyers purchase the latest creations from designers, and the public, eager to discover the fascinating world of haute couture, moves from show to show like crazy. While it is almost impossible for mere mortals to attend Paris Fashion Week, it is an ideal time to enjoy the atmosphere of luxury, fun and extravagance that is all over the French capital.
Paris Fashion Week is a relatively young event. The first show of couture achievements took place here in 1973 (in comparison New York Fashion Week began in 1943). Every year since then the autumn/winter collections for the following season are presented here at the end of February and the spring/summer collections for the following year at the end of September.
The main venue for Paris Fashion Week events is the Louvre Carrousel, located beneath the Tuileries gardens. In addition, many designers invariably choose some unexpected location as the venue for their fashion show, especially the mischievous John Galliano and Jean Paul Gaultier are known for.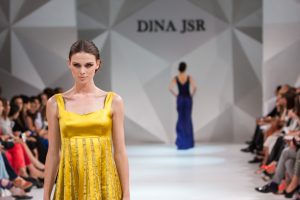 How to attend Paris Fashion Week?
Coming to Paris during Fashion Week couldn't be easier. Attending shows is, alas, much more difficult, so it's a good idea to set yourself up in advance for a general celebration of fashion, beauty and femininity, rather than for a visit to a particular show.
The first rule is to book accommodation well in advance. Almost certainly in the centre of Paris all decent hotels will be occupied by the fashion cohort, so you should focus on hotels closer to the outskirts of the French capital – most importantly, convenient transport links to the Tuileries area. Also very useful is the Paris guest card, which entitles you to free public transport. Finally, a perusal of the official Paris Fashion Week website will help you know the dates of the shows and plan your time wisely.
In short, "in real life" – nothing. Paris Fashion Week is the most exclusive of similar weeks. Shows are only for buyers, celebrities and the press. The reason is that even if you are a staff member of a fashion magazine you would not be able to attend the fashion show – only French news agencies with a specific registration are allowed.
However, you can still plunge into the carefree atmosphere of the outfits. For that, head to Galeries Lafayette, where the current season's fashion shows are held on Fridays at 3 p.m. on the 7th floor of the Salon Opera. It's certainly not as pompous as the Fashion Week shows, but admission is free – you just need to book in advance.