Are you sick of being adjusting the dish antenna or struggling to get your desired streaming channel? Worry no more. Sky has brought you a box less, antenna less that will get you out of those tangled cables. With the debut of sky glass, the audience will have access to almost all the media giants. Stick till the end to learn about all the perks and the pitfalls.
Sky – An Overview
Group Sky is not a new branch that is just starting to bloom but for a seasoned branch that has been providing its users with the best of everything ever since its inception. The Sky is among the best Europe media and entertainment companies spread in 6 countries with almost 23 million users. It started in 1989 when they launched UK's first satellite TV service with four channels. With the gradual progress, the Sky has now introduced sky glass.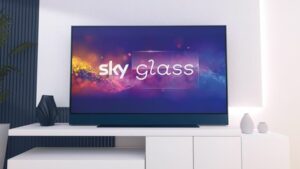 Sky Glass – A Brief Introduction
Glass is an iconic name for the elegantly made television by sky group. It consists of voice control streaming of your favourite media giant. Moreover, it is a significant attempt to remove your old dish antennas and the top set box. Now you may ask what else is there. So let us make it easy for you. Sky Glass has 4K resolution, affordable pricing, Dolby Atmos sound and much more, which you will read below.
Key Specs
Smart platform

Sky Glass

Screen sizes

small(43″)

medium (55″)

large (65″)

Panel

Quantum Dot LCD

Resolution

4K/UHD

Refresh rate

60Hz

Audio enhancement

Integrated Dolby Atmos speakers

Smart assistants

Hello Sky

HDR formats

HDR10, HLG, Dolby Vision

Wireless connectivity

802.11ax (2.4GHz and 5GHz)
What does Sky Glass Have To Offer?
As an established e-commerce business, sky glass has brought some exceptionally appealable features to this new tv. If you are of those people who are looking for attributes that may attract you, here are they:
HD resolution
The prominent captivating feature of sky glass is its HD quality 4K resolution. The quantum dot technol brings it to the next level of the game. 1080p view of your favourite channels will make you stick with the screen without having track of time. A TV's high-quality picture is undoubtedly the most appealing feature in terms of a TV.
Variety
A perfect night means popcorn and a movie with the best colours and a comprehensive view. Furthermore, Sky glass offers you some unique and attractive colours scheme so you can choose among them. Those colours include Anthracite Black, Ceramic White, Ocean Blue, Dusky Pink, and Racing Green in three sizes, i.e. 43″, 55″ and 65″. You can either wall mount it or make it stand on the AV stand; the choice is yours.
Dolby Atmos integrated
yes, you have heard it right. It has the perfect sound for you. Watching a horror movie and need to vibe on it; get a sky glass and see the magic happening. The cinematic experience will keep you hooked with the screen and have your mini cinema on your couch comfort. The bottom of the screen is covered by an acoustic mesh panel woven into the matte black aluminium bezel.
Connection Ease
Sky glass has to offer three connectivity options. The eARC-enabled HDMI 2.1 inputs are all on the left side of the rear panel. They face downward, making them difficult to reach on large televisions. The device also comes with an Ethernet port, USB-C, and an aerial port. You can still watch free view channels in case of downtime, but this is mainly a backup for streaming. It is also important to mention that there is no 3.5mm audio jack or Bluetooth.
Multiple Streaming Apps
You can stream your favourite channels any time. Netflix, Amazon Prime Video, Disney+, BBC iPlayer, ITV Hub, All 4, Spotify, and BBC Sounds are available services.
Playlist
The playlist section becomes more interesting as you move halfway down the home screen. By pressing the "+" button on your remote control, you can add shows and movies to your playlist. In addition to your playlist and all of the items you've watched, a new episode appears in the play now panel.
UKTV is available on Sky's platform so that you can watch it. The tile in the playlist is only a link to the on-demand app for shows from the BBC, ITV, and Channel 4. You watch new shows after they are added by pressing watch. When you click on the BBC logo, iPlayer opens either the homepage or an episode. The same works for other options.
Voice Search
Like many other android TVs available today, sky glass also has the feature of voice search. If you are lazy to type what you want to watch, you can give a command to "hello sky", and you will get the desirable results.
Pros
No dish required.
Pretty much affordable.
Dolby Atmos sound integration.
Cons
HDR10+ is not supported.
Program recording unavailable.
Some HDMI ports are hard to reach.
No headphone jack.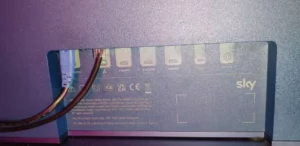 Pricing
People go for economic items. No one would ever like to spend heaps of money. Nonetheless, if we talk about sky glass pricing, the small size is a 43-inch model that costs £649 if purchased upfront. The medium size is 55 inches and will cost you £849. The biggest, the 65-inch model, will cost you £1049. Alternatively, there are 24-month contracts with a fee of £10 upfront or 48-month contracts with a price of £20 upfront.
Small, Medium, and Large start at £26 per month for the 24-month contract. If you would rather pay it over 48 months, Small, Medium, and Large will start at £13 per month.
In addition to the backup Freeview tuner, you can use the TV with on-demand apps from third parties without a Sky subscription.
Additionally, you'll have to pay extra if you wish to add services such as Sky Ultra HDR and Dolby Atmos, Sky Cinema, Sky Sports, Sky Kids or BT Sports. You can pay anywhere from £5 per month to around £30 per month based on your package.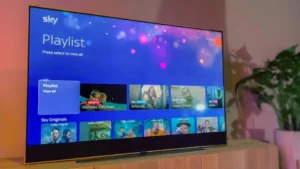 Installation
You would undoubtedly want to assemble all the items included in the package. The next thing you will have to do is plug the switch in and turn the tv on. Once connected to your Wi-Fi network (made even easier if you are using Sky Broadband), Sky Glass will guide you through the rest of the setup process. You will then be asked whether you want to use default or enhanced settings. Enter your account-related information to log into your platform.
Glass Review
I have concluded that it is not as bad as portrayed. Yes, you may have bad luck if you have a problem with this piece.
Sky Glass is a great streaming TV that combines everything you need into one easy-to-use device. The company's Sky premium library and apps can be accessed directly from the TV through its interface without requiring any additional equipment.
Sky's TV is destined to become a must-have kit even with some quirks. Its internet-connected design means that updates will be rolled out over time, so you'll continue to see improvements as you own it.
If you do not have reliable broadband, then the Sky Glass may not be for you, but if you do, it is an excellent television that anyone can enjoy, whether you are very tech-savvy.
Is it worth the investment?
So the final question which is bothering you from the beginning is, is buying sky glass worth it? There aren't many TV systems that offer so much for such a low price. I liked how convenient it was, how easy it was to use, how it came with built-in speakers, and how low-cost it was as a monthly Sky subscription add-on.
In the meantime, Sky Glass offers the same exclusive Sky content in optimum 4K resolution for those who cannot or do not want to install a dish.
Furthermore, it's the only TV certified CarbonNeutral and has six powerful speakers. It features 360⁰ Dolby Atmos sound and quantum dot screen technology for stunning colour and contrast. Thus, you can consider buying it. However, it would help if you thought carefully about whether sticking with separates wouldn't be a better movie.