A summer house is the best option for those who want to give their property a bit of a facelift as summer arrives.  Summer houses are not only a smart investment for summer, but you can also benefit from them in autumn and winter by using a little more heat inside. In addition to serving as a complement to your main house, summer houses can also serve as a home office, cinema, games room or gym. They can also serve as a quiet place where you can admire your garden while staying dry.
If you want to host guests, summer houses are often larger than barns and more comfortable to live in. No matter how big or small your garden is, there are many sizes, roof types and design options to suit any outdoor space. To help you achieve your gardening goals, we've searched the internet for the best summer houses at the lowest prices.
Where can you get the best Summer houses?
This is a question everyone asks when it comes to wanting to buy a summer house. One of the best brands is Garden Buildings Direct.
The business has been operating in the outdoor building and leisure goods sector since 2000. Charles Walton founded Garden Buildings Direct, a family business that has grown steadily under his leadership. Their responsibility to their consumers comes first. They work hard to create high-quality, cutting-edge products that their consumers will appreciate for a very long time.
Garden Buildings Direct aims to create an exciting garden lifestyle through its exceptional design team.
All of their wooden buildings are designed, built and delivered directly from their workshop in the UK. They invest heavily in state-of-the-art production equipment to ensure that everything that comes out of the warehouse meets the highest standards, in addition to their design staff.
By allowing their customers and the local community to open and furnish their own outdoor spaces, Garden Buildings Direct aims to encourage an outdoor lifestyle.
Garden Building Direct: Summer Buildings
BillyOh Carmen Log Cabin Summerhouse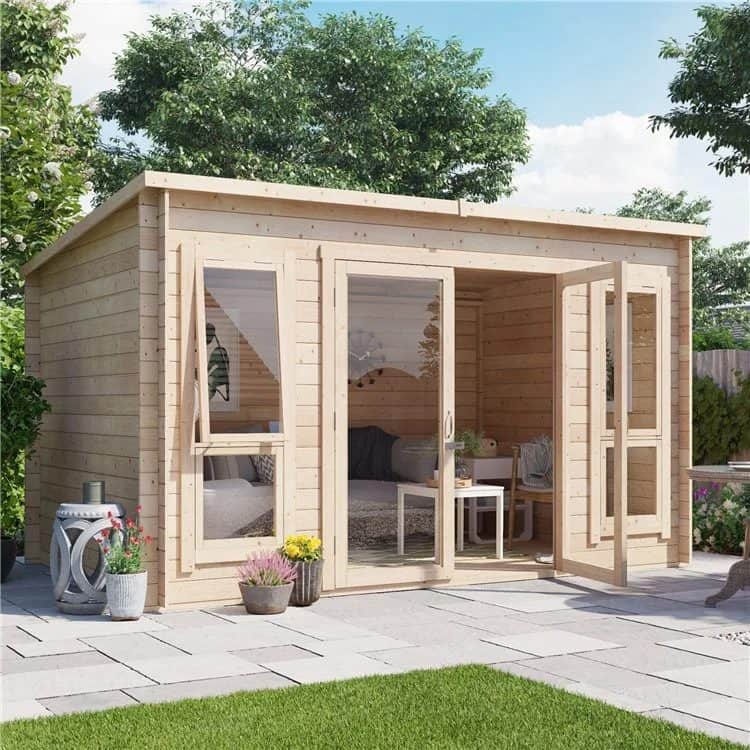 A great room for the family, a place to entertain or just a place to relax and unwind is the Carmen Log Cabin Summerhouse. Carmen is a high-quality summerhouse at a reasonable price.
It has all the benefits of a BillyOh log cabin, including robust tongue and groove construction and 19mm or 28mm wall cladding.
Stylish Pent Design
Full-length windows and doors to let in natural light
Modern front windows and the central door
Construction with Strong Tongue and Groove the thickness of wall logs: 19mm or 28mm
Optional pressure therapy to lengthen the life
Floor and Roof 11mm Tongue and Groove
Full of felt, fittings, and accessories
The robust tongue and groove construction, which guarantees a strong and durable structure, is one of the hallmarks of this building. The tongue and groove boards join together to create a tight seal that provides excellent weather protection.
Their superior mineral felt is quick and easy to install, it is resilient and protects your building from the weather. Modern windows and doors are one of the distinguishing features of this log cabin. Carmen's large windows offer beautiful views of your garden and let in natural light, giving the room a feeling of spaciousness and natural light.
Corner Summerhouses
To suit everyone's needs, they offer a variety of corner summer houses. A corner summerhouse is ideal for challenging the outdoors and making the most of the available space. It is designed to be installed in a corner of your yard.
Check out a great selection of corner gazebos for that quaint spot in your yard. The tall glass windows in the corner pergola design let in natural light, while the wide-opening double doors provide easy access, circulation and an expansive view of your garden.
You can prevent the loss of important garden space by installing a corner pergola. The possibilities of this garden building design are endless; the interior space can be transformed into any type of room you desire, including a home garden office, children's playhouse, craft room, traditional storage space for items such as bikes and garden tools, or simply a place to relax and unwind after a long day at work.
Their corner summer houses come with a quality guarantee and are built with superior tongue and groove panels made from high-quality European timber. The corner summer house provides structural integrity and a sturdy structure that resists even the harshest of weather conditions thanks to the tongue and groove panels that are joined together.
Their style and the shape of their creations are what makes them distinctive. With no obstructions on the roof visible from the house, this chic and popular summer house design not only gives you a clean appearance but also good water drainage in wet weather.
Combining the strength of a log cabin with the comfort of a summer house, the BillyOh Robyn corner house is ideal for those who adore wooden houses.
Conclusion
If you're looking for the best option for summer cottages, the Garden Building Direct catalogue should be your stop. Browse through their options to choose what you want.