The beloved hero of the franchise – the plumber Mario appeared on the interactive dial of the smart model TAG Heuer Connected.
The watch company TAG Heuer has shown the results of a collaboration with Nintendo. The main hit of Japanese developers is the video game Super Mario Bros., released in 1985 and became the best-selling video game in history.
"As part of this collaboration with Nintendo, the Super Mario hero instantly came to mind. And it's not just about its appeal among different generations of gamers around the world. Mario is an overactive character, whose perseverance and tenacity successfully rescue him from any situation. TAG Heuer Connected is every energetic person's best friend. The Super Mario Limited Edition watch will add fun and originality to your daily activities, "TAG Heuer CEO Frederic Arnault explains the commonality of the smartwatch for active life and tireless hero in a red cap and blue jumpsuit. Plumber Mario perfectly embodies an active lifestyle: he is always on the move, runs, flies, swims, plays golf and tennis.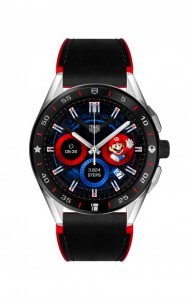 The creators of the TAG Heuer Connected х Super Mario Limited Edition are confident that smartwatch owners will also join its active training. Moreover, as the user's activity grows, the dial becomes more lively and dynamic. The animation is based on the gamification system. Mario greets you every morning and accompanies you throughout the day, helping you get the required number of steps and getting rewards. When you reach 25%, 50%, 75% and 100% activity, surprises from the Super Mario game are displayed on the display.