Sometimes we have to choose gifts not only for a celebration, but also as a token of our appreciation. Such gifts should be appropriate and inexpensive. If choosing such a gift for a friend or girlfriend, consider sweets.
Such a choice will leave no one indifferent, and we'll tell you exactly what you can get from our favourite Cadbury Gifts Directs.
This 850g chocolate bar is a simple, sweet and delicious token of appreciation. It is usually worth buying such nice gifts in larger quantities for the future so that you have something to surprise your friends at the right time.
Thank You Chocolate gift of St Peter's Ales with a variety of the nation's favourite Cadbury Dairy Milk bars. Inside this hamper:
1 x 200g Cadbury Dairy Milk Bar with cardboard 'Thank You' sleeve
1 x 200g Cadbury Dairy Milk Fruit & Nut Bar
1 x 120g Dairy Milk Oreo Bar
1 x 120g Dairy Milk Whole Nut Bar
1 x100g Bournville  Dark Chocolate Bar
1 x 500ml St Peter's Gatekeeper Golden Ale ABV. 4.7%
1 x 500ml St Peter's Best Bitter ABV. 3.7%
1 x 500ml Old Style Porter ABV 5.1%
Product dimensions 265mm x 245mm x 95mm
Such a set can replace a full-fledged gift for a person in honour of an event or when you've really been bailed out in a difficult moment.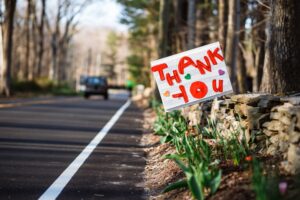 It's a truly versatile set with little chocolate surprises waiting for the gift recipient. It contains:
1 x Cadbury Dairy Milk 200g Bar with Thank You Cardboard sleeve
3 x 1 x 216g Cadbury Treatsize Bag of 14 bars. A selection of approx 42 Treatsize Cadbury bars including:
Cadbury Fudge
Cadbury Chomp
Cadbury Crunchie
Cadbury Twirl
Cadbury Curly Wurly
Cadbury Flake
Product dimensions 265mm x 245mm x 95mm
Milk Tray with a bottle of Prosecco – a great gift for a special occasion. Is there anyone else on this planet who doesn't like prosecco? Not to mention the combination with chocolate? This gift confidently takes the top spot in our personal ranking. What's inside?
1 x 360g Cadbury Milk Tray Chocolate Box- two layers of Milk chocolates, 1 x 75c Prodezzo Prosecco Brut – Italian ABV. 11%,
Please Note: This gift contains alcohol and cannot be bought or delivered to any person under the age of 18.
Product dimensions 245mm x 170mm x 250mm
This is the biggest hamper by Cadbury Gifts Direct. An absolute hit with everyone! A large wicker basket crammed full of Cadbury chocolate and traditional favourites which include Milk Tray, Dairy Milk, Hot chocolate, Bournville, Cadbury Roses and Heroes.
Dark Brown Wicker Hamper 20″ with two clasps
1 x 530g Cadbury Milk Tray double layered chocolate box
1 x 290g Roses Carton
1 x 290g Heroes Carton
1 x 400g Jelly Babies Carton
1 x 420g Cadbury Chocolate Eclairs
1 x 120g Cadbury Caramel Nibbles Bag
1 x 110 Bournville Giant Buttons Bag
1 x 119g Cadbury Giant Buttons Bag
1 x 250g Bournville Fairtrade Cocoa Drum
1 x 100g Bournville Bar
1 x 110g Dairy Milk Bar
1 x 250g Cadbury Fairtrade Drinking Chocolate
1 x 125g Cadbury Dairy Milk Hot Chocolate Sprinkler.
1 x Maynards Bassetts Wine Gums Carton 400g
1 x Maynards Bassetts Liquorice Allsorts Carton 400g
Product dimensions 53cm x 38cm x 28cm
Send a surprise with a new chocolate bar box that fits in the letterbox. Sounds cool, doesn't it? You can surprise a friend from the other side of the world. How happy they will be when they check their mailbox. Simply place your order and the chocolates will be delivered to the recipient.