National cuisine is an integral part of a nation's history and culture. Which country's cuisine is most beloved in the world? Let's take a look!
Italy
Did you know? An Italian eat an average of 23 kg (51 lbs) of pasta per year.
Italian cuisine is revered in so many countries around the world. People unfamiliar with Italian cuisine define it in four words: pasta, garlic, olive oil and tomatoes. These products certainly occupy an important place in Italian cooking, but the traditional recipes are not limited to them. Italian cuisine, in general, is not very specific, but it is savoury and quite healthy: Italians really adore tomatoes and also cabbage, carrots, asparagus and all sorts of greens. And more often the vegetables are not boiled but stewed in their own juice or in fat. And pasta is a dish that enters the house of almost every average European family. "Pasta" is seasoned with tomato sauce, butter, cheese, cooked with meat, mushrooms – there are plenty of variations!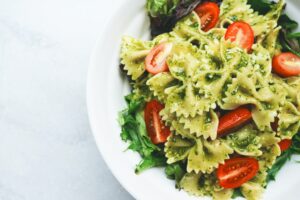 Mexico
Tacos, quesadillas, tortillas, burritos – Mexican food is loved everywhere! Mexican cuisine is a fusion of Aztec and Spanish culinary traditions, and offers a variety of flavours, from very spicy to sour and sweet. Spices such as cilantro, serrano peppers and jalapenos are used throughout. All sorts of meats and a variety of seafood are also used.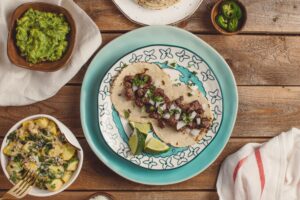 India
Indian cuisine is spicy, spicy and unusual, with a particular emphasis on vegetable dishes flavoured with traditional spices, particularly curries. Indian cuisine is a wide range of regional cuisines that differ significantly from each other as they use spices, herbs, vegetables and fruits that are unique to the area. Indian cuisine has had a significant influence on other cuisines around the world, especially those of Southeast Asia, the British Isles, Fiji and the Caribbean.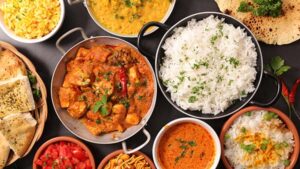 China
Chinese cuisine has spread to other countries around the world, becoming, at times, the most revered. China is a vast country and therefore culinary traditions vary from region to region. Over the millennia, cooking methods and ingredients have been integrated from the cuisines of other cultures through imperial expansion and trade with surrounding regions. Interestingly, dairy products are very rarely used in Chinese dishes. Chinese cuisine is considered by many to be one of the 'three great cuisines of the world', along with French and Turkish.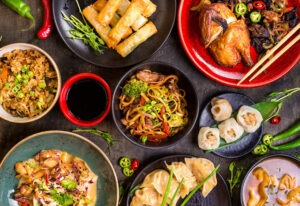 Japan
Traditional Japanese cuisine is based on rice and fish, with an emphasis on seasonal ingredients. Garnishes often consist of pickled or broth-boiled vegetables. Fish, on the other hand, is grilled, stir-fried and sometimes served raw. In addition to rice, the Japanese revere soba and udon noodles. Historically, the Japanese have avoided meat, but in the process of modernising the country in the 1880s meat-based dishes such as tonkatsu appeared in traditional cuisine. Japanese sushi and rolls have become more than popular around the world.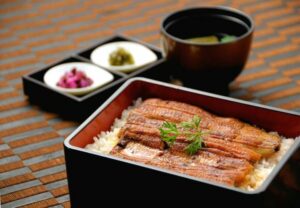 France
Throughout the Middle Ages, French cuisine was heavily influenced by Italian culinary characteristics, but in the 17th century French cuisine began to shed its foreign influences and develop its own style of food. By the 20th century French cuisine had thus come to be considered "haute cuisine"; furthermore, in 2010 it was added to the UNESCO list of World "Intangible Cultural Heritage". France's regional cuisine is extremely diverse: traditionally, each region of France has its own distinctive food style.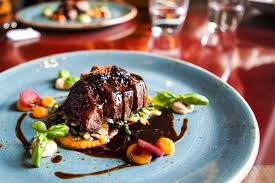 USA
The cuisine of the United States reflects its history as much as possible. Styles of the different cuisines of Europe, along with immigrants, took root and intermingled throughout the 19th and 20th centuries, developing American cuisine. The American colonial diet varied from region to region: somewhere deer, bear and bison were eaten, somewhere poultry was preferred. Compared with the northern colonies, the southern colonies were more diverse in their cuisine. At the beginning of the last century one of the characteristic features of American cookery was the fusion of several ethnic styles with completely new ones. The US became world famous for its fast food and it is the country with which a huge portion of the population now associates the most unhealthy but also the most beloved style of food.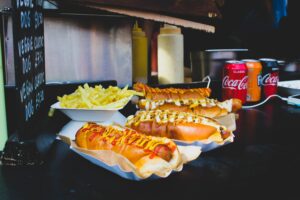 Turkey
Turkish cuisine is largely a legacy of Ottoman cuisine, which in turn is a fusion of the food features of Central Asia, the Caucasus, the Middle East, the Mediterranean and the Balkans. Turkish cuisine varies in different parts of the country: in western Turkey, where olive trees grow in abundance, the use of olive oil is ubiquitous, while the cuisines of the Aegean, Marmara and Mediterranean Sea are rich in vegetables, herbs and fish. Central Anatolia is known for its mantas and Gezleme flatbread.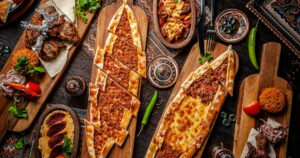 Greece
Modern Greek cuisine means litres of olive oil and lemon juice, tons of vegetables and herbs, delicious breads, fish and a wide variety of meats – lamb, poultry, rabbit and pork. Many people associate Greek food with cheese, olives and aubergines, and Greek desserts are characterized by the use of nuts and honey. The most important point is the serving and serving process: most impressive is the meze, a sumptuous array of appetizers.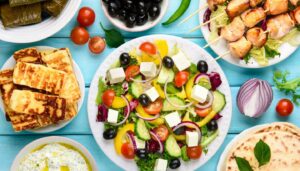 Many of the world's traditional cuisines can be enjoyed at home or at work. Just order what you want to eat and the food will be delivered to you in the best possible way.