When getting on a motorbike, many people forget that this two-wheeled monster has no climate control. If you don't get your gear right, you can either boil in the heat or become a frozen lump. Not many beginners are able to understand the weather.
Helmet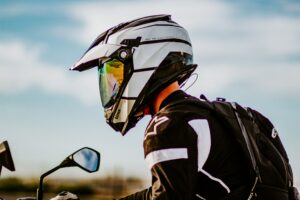 The essential piece of motorbike gear. You can skin your palms, mend a broken arm, but head injuries can have serious consequences up to and including death. Therefore, you must not economize on a helmet. This element of protection is available in the following variations:
It covers the biker's head completely. It has a special glass visor that protects your face from injury, insects, flying stones, sand and gravel. Some helmet models have a double visor which prevents fogging up in cold weather and offers increased durability.
The most advanced version of the motorbike helmet. It has the ability to raise the face protection upwards, turning the integral into an open version in just 1 second. Unfortunately, such extensive functionality significantly increases the weight of the helmet and its cost.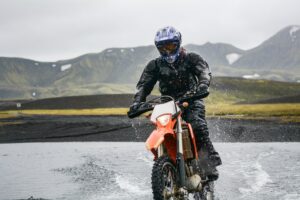 Designed for off-road motorbikes. The helmet is designed to prevent dirt from entering the face from bikes ahead of you and allows you to breathe freely. Cross-country helmets don't usually have visors, but special motorbike helmets do. If you want a combination helmet, choose the dual sport models which include safety glass, removable visors and even special sunglasses.
Helmets are made of 2 types of materials: thermoplastic or composite. The former is heavier, less strong but cheaper. Composite helmets are more expensive, but are far more durable, comfortable and do not strain the neck muscles. They are lighter, far less bulky, and use expanded foam as an impact-absorbing filler material. When choosing your helmet, be sure to try it on – it should not be uncomfortable.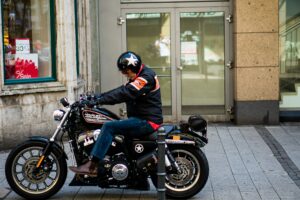 The cheapest and most unreliable type of helmet. It does not protect you from injury, but it does save you the trouble of the traffic police. It is the choice of those who don't like to sweat in a bulky motorbike helmet or owners of vintage bikes.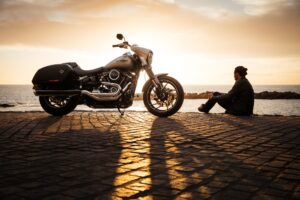 It comes in the following varieties:
Made of textile and slightly longer. It easily handles falls on asphalt, is waterproof but lets sweat out easily to prevent overheating. The jackets feature ventilation flaps on the front and back and a lightweight back protector.
This is a much shorter jacket compared to the Touring jacket, but it's very similar to the Touring one in terms of functionality. The difference: the urban jacket has fewer pockets. Included is a removable lining, built-in protection, valves for ventilation.
The best protection for the body. It represents a jacket with thermoplastic protection on all sides. It will keep your elbows, knees and shoulders safe. The downside is, it's not very comfortable to wear as it hinders your mobility significantly.
Leather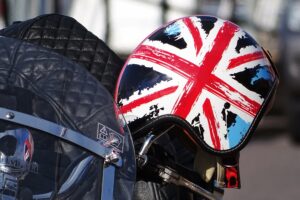 Leather is the traditional material for motorbike gear. Motorcyclists prefer this material for its softness, suppleness, durability and ability to endure sliding on asphalt. Sometimes these variants are fitted with additional shoulder and elbow protection. Despite the merits of this jacket, it's better to ride in it at low speeds – in serious accidents it doesn't protect you from injury.
Footwear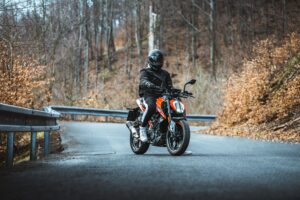 It seems to be an element you can save money on. What difference does it make to sit on a motorbike: expensive motorbike boots or simple trainers? In fact, motorsport shoes should have a number of features that your everyday shoes can't offer, such as:
durability – good motorbike boots can withstand the weight of a motorbike falling on top, a side-impact from a car.
Comfortable – they should not only be comfortable to wear but also comfortable to walk in. So don't ever buy motorboots without trying them on – otherwise, you might suddenly realise that you will be unable to reach your bike.
Choosing the right outfit isn't difficult. As long as you know what you're buying, know the prices, and take the advice of experienced bikers. We're sure you'll find something that's right for you. And remember, saving too much on protective gear may cost you your life. So if you're buying second-hand motorbike gear, be sure to check its quality: it's better to buy it from a biker you know.