Many do not even think about how unique a thing each of us has in our wardrobe. The history of jeans goes back to 1853, when Levi Strauss arrived in California to sell thick brown fabric. However, the trade was not going on, and the creator of the main item of our wardrobe decided to sew a double-stitched overalls from it to sell to gold miners and other workers.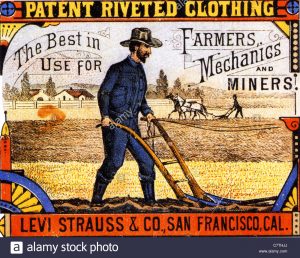 The first jeans were so practical and comfortable that after a while Levi was able to open the first store named after the first letters of his name – Levi's. His jeans have passed through the centuries without losing their relevance. And now designers can create things from denim of completely different textures, colors and shapes. In this article we will tell you about which jeans are relevant this season, what to wear with them and how to be in trend using the most basic thing in your wardrobe.
Bright jeans
View this post on Instagram
In the summer, you always want to add color to your wardrobe. Bright jeans will help create a creative and unusual look. Pink color will complement any nondescript combination with a touch of romance and glamor, but it is important to choose clothes and accessories of similar shades or create a monochrome outfit, otherwise jeans risk becoming a bright spot, and not a complementary element of the image.
View this post on Instagram
Green should be used when designing a risky and daring outfit. Wear them with cropped tops and blazers in white and black, don't be afraid to add accessories and opt for sneakers or heels.
Wide leg and flared jeans
View this post on Instagram
These jeans are the main trend of the season. Now there are many interesting models in stores, and designers complement them with original elements: pins, buttons, an abundance of seams. Jeans with a raw bottom look very cool.
View this post on Instagram
Sometimes such models are created with an asymmetrical hem, when the front leg is shorter than the back. You can combine them with a bustier top, T-shirts and cropped shirts. It must be remembered that such jeans visually lengthen your legs, so designers recommend choosing shoes based on your height.
White jeans with unusual details
View this post on Instagram
White jeans are a versatile item for almost any wardrobe and season. They look very beneficial in summer outings, perfectly complementing other things of the image. Ripped jeans are recommended to be worn with tops or blouses with bulky shoulders. Jeans with cutouts at the waist can be paired with V-neck shirts and ribbed tops.
For a distinctive outfit, choose jeans with a print or with inserts in a different denim color. Add animal print accessories and metal chains.
Low Rise Wide Leg Jeans
View this post on Instagram
One of the trends that came to us from the 2000s is low-waist jeans. Britney Spears and Jennifer Lopez have inspired many of the designers. They wore these jeans with colorful crop tops, with ties at the neck and around the waist.
Two-tone jeans
View this post on Instagram
Recently, many two-tone jeans have appeared on the shelves in stores. Made as if from two different pairs, they look fresh and allow you to expand the choice of clothes for a combination. There are no restrictions in such models: they can be of different shades, textures, prints and densities.
The two fabrics can be sewn along or across, which looks interesting and draws attention. You can combine such a thing with cropped T-shirts, cardigans or tops paired with an oversized jacket that will save you from the summer chill.
Banana jeans
View this post on Instagram
Wide jeans that taper sharply downwards are called bananas. They came to us from the 80s and have already appeared in every girl's wardrobe. They suit any type of figure and go well with oversized shirts and tops, with denim jackets and corsets, with sneakers and sandals.
Designers recommend not to use accessories with these jeans, it is better to pay attention to the appearance of the pair. Look for models with pleats at the waist, front seams, cuffs, and fading. They will be enough to create an expressive outfit.