Grocery shopping items are personal choice-based lists, where you can buy the things according to your budget and preference. Everybody has their own buying capacity and preference. That's the reason, no shopping list is the same as another.  All people build and write their groceries according to their eating habits ad affordability.  If you have never come across the idea of cooking and you have just begun cooking and you have no idea what to buy. we have compiled the list of the most common things used in the daily kitchen recipes. It is totally up to you what recipe you are going to create out of it.  
If you are living in an apartment and on the road or hostel at the university, the goods list may be different and if you are living in your own house with your family members, then the food buying capacity might be different because some recipes are quick and easy to make as they do not require more time and energy to prepare.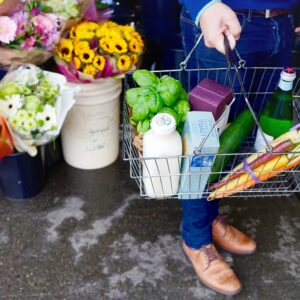 All these items are basically used in every meal plan and they are consumed everywhere in the world. All these items include basic nutrition properties that can be beneficial. if you want to add extra spice, you might have it after you start with the basics,  and later on, you can add more twists. Initially, you might miss something, but on the next trip, you gonna have everything that you need in the end.
Frozen products should be the number one priority,  Although fresh vegetables and fruits are the part and parcel of every healthy eating schedule. But it is better to store them if you are living away from the vegetable market. It would be best if you buy them prepared and chopped etc. It would save your time from peeling and chopping. 
 You should not buy too many vegetable fruits that are sure to spoil soon, these lines are quite tempting and appealing when you go shopping " buy more and save money for future use." I think this gonna waste more money than saving, as resultantly, You will be looking for more space to store them and exceptional overeating might be dangerous to the health.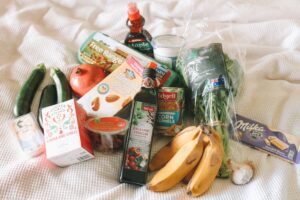 If the food items are not worthy of storing for a long time, they might get a bad taste.
Let's break your shopping checklist into the categories of eatables, so it might get easy to buy them.
Meat and Fish
Meat is part of every meal. Fewer chances are that you are vegetarian. Beef, mutton, or chicken breast are part of every evening meal or party meal.  It is consisted healthiest food to build muscle and energy. Secondly, protein is the best part of every diet plan. 
Fish is a big portion of high and effective nutrition, it is the best meal to build muscle and lose fat at the same time, fish have lots of health benefits. You can buy it from the grocery store. 
Dairy & Eggs
Eggs are an essential part of the daily household.  You can prepare amulets in the morning and or health breakfast o and it is the best part of lunch, especially for the children's recipes. 
Milk
Milk is the best part of your diet, you can prepare pasta, porridge, and a lot of other things with milk. With the milk, you can add the best fruit milk and drink milkshakes.  If you have an allergy to cow or buffalo milk, you would better buy soy or almond milk. 
Cheese
Cheese is great standard food and contains high calories in it. you can use Tiwi the milk recipes like roasting meat or not fry-like recipes,  or you can use it as a great sandwich filler.
Oil and fats
Butter, if you are going to prepare tea and sandwiches in the morning, it is the best idea to buy the butter,  and some bead slices along with it- butter is a must-have ingredient if you like gravy dishes.
Olive oil
If you love to fry food and cook things with the oil, for a healthier lifestyle, olive oil is recommended as it contains omega-3 fatty acids.
Grains and Bread
Rice
Rice is a great meal filler, every meal shares a great deal with rice.  you cannot offer a good meal taste without rice collaboration.
Bread
Bread is a good choice if you want to prepare french toast in the morning, this is the best option to add fiber into your diet. This is best recommended. You can also eat oatmeal or wholegrain varieties.
Flour
Flour is the basic ingredient in the food. It is widely used in the bread-making process,  or as a coat for meals and a lot of other healthy recipes.
Breakfast cereal
Breakfast cereal will definitely give you the best meal recipes to start your healthy day. This is the best if you want to avoid sugary meals. You can choose the meals that are high in fibers and you will not feel appetitive log after you eat them.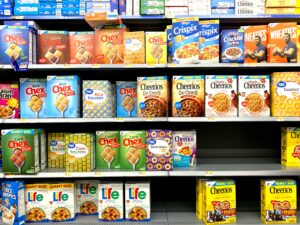 Onions & Tomatoes
It is very difficult to cook and non-sweet recipe without opinions.  Onion is good to eat in the lunch and meat-related recipes. They can be a bigger part of the salad in the afternoon recipes. 
Garlic
Another essential ingredient is garlic. it is best to add flavor to our meals as Garlic is antic to blood pressure and sugar.
Fruits
Fruits are part and parcel to add flavor to your diet. You can eat the fruit in the morning or as a snack. Without fruits, your life seems tasteless. 
Vegetables
Vegetables are a great source of vitamins and proteins and this is the best choice to choose broccoli and cauliflower if you are a vegetarian.  Each food you choose has some vitamins for the body.  So make sure you are adding some green vegetables to your diet.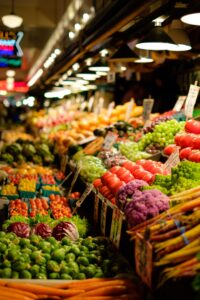 Pulses
If you are a vegetarian and you would like to have protein in your diet then pules are the best choice. 
Chopped tomatoes
Tomatoes are the best part of the diet. We recommend that you try the garlic and chopped tomatoes and make a tomato sauce for later use.
Seed & nutts
Nuts are a great source of healthy fats, especially almonds and peanuts
Pepper
Paper is the best to add flavor and spices to your goods.
Herbs and spices
Herbs are responsible for making your food tasty and an appetizing and memorable the long after you eat them. If you like to eat Italian and Mediterranean cooked food then make sure your kitchen has all basic herbs. 
Honey
Honey is a natural sweetener and can be part of many recipes 
Suggar
Suggar can be added to make up cakes, desserts, and sweet tea,  this is not good if you are trying to lose fat by cutting extra calories from your diet.
Final thoughts
After all, all eatables, whether they are related to the vegetarian or non-vegetarian food table, should be consumed one after the other. Every food that we eat has some different nutrition. So it is best to tweak the diet plan every Saturday. Eating the same food on a specific day will be less effective for the body organs.
If you're planning your next grocery shopping trip, we recommend checking out Morrisons Groceries. The products are of the highest quality. Packaged well, they arrive neatly and on time.