Once upon a time, the history of this corporation in post-war Japan began with the slogan 'Healthy Mind, Healthy Body'. At the time, ASICS promoted the benefits of exercise to improve mental well-being.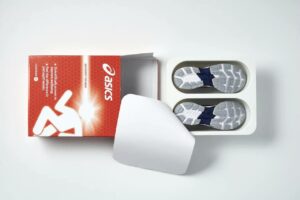 The idea is still relevant, and to underline this, the trainers are now packaged as a medicine to be shipped around the UK and the Netherlands. Take two of each.
Beautifully crafted, it supports the brand philosophy. A side benefit of such creativity is that order recipients are sure to share photos of the parcel on social media. A promising topic for sharing and discussion.